PricePong® Co-Founder, Faraz Mohammed talks about the phenomenon of AEIOU, otherwise known as, "Amazon's Economic Impact On U" and shares some strategies retailers can utilize to overcome the Amazon Effect. You can read the text below or see the full article here.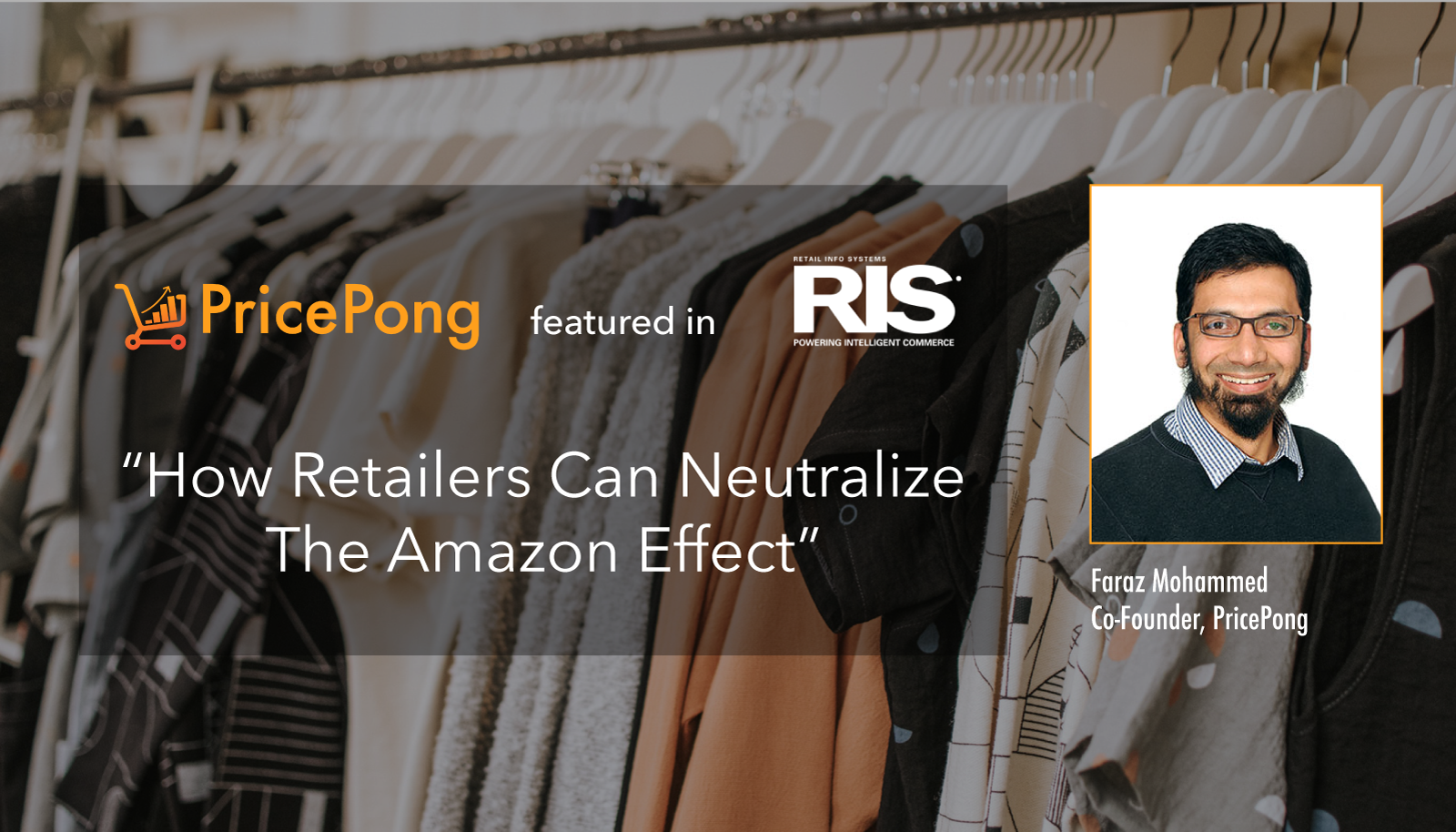 ---
How Retailers Can Neutralize The Amazon Effect
Amazon is challenging players across services, tech, and media industries, just to name a few, but no industry has been more impacted by the Amazon effect than retail. According to the U.S. Census Bureau, Amazon was responsible for 53% of incremental growth across online retail last year, and Bloomberg reports that more than 50% of online shoppers begin their product search with Amazon. The Amazon threat is so real that in discussions with our clients, we've taken to calling this phenomenon 'AEIOU', an acronym for "Amazon's Economic Impact On U." For all online retailers, tackling AEIOU should be a top priority. This begins by examining the ways in which Amazon has raised the bar for all retailers in meeting consumer expectations. Consider the following services and features Amazon offers: competitive pricing, 1-click checkout, free shipping, easy returns, vast product catalog, and video content and reviews to guide purchasing decisions. All of the above fall into one of four categories: Ease (checkout, returns); Shipping (free, multiple options); Price (competitive, multiple options, volume discounts); and, Product (huge product catalog, ample information available). Looking across these four dimensions, what should retailers focus on to stop Amazon from eating their lunch?
Retail Brand vs. Department Store
The first step is for retailers to classify their business. At a very high-level retailers can be broadly classified into two categories: retail brands or department stores. For example, LOFT, Brooks Brothers, and Gap would be considered retail brands while Walmart, Target, and Macy's would fall under department stores. Retail brands and department stores will require different strategies to effectively compete with Amazon across the dimensions of price, ease, shipping, and product.
Price
Without question, Amazon's most powerful differentiator is price. Amazon prices update several thousand times a day to remain competitive and will take a loss to kill other businesses. As such, merchandisers can't continue to operate within the old-school method of setting rigid price models and revisiting them only once a quarter. Today's retailers need to adopt real-time analytics capabilities to change prices in a competitive market; this includes emerging tech that allows consumers to name their own price, dynamically apply relevant coupons, receive 1:1 pricing offers, and cart level pricing, just to name a few.
Ease
For over a decade, Amazon had a significant competitive advantage thanks to its 1-Click checkout patent. Realizing the edge that 1-click provides, Apple licensed the technology from Amazon for 17 years. However, the 1-click patent expired in September of 2017, effectively leveling the playing field for all online retailers. Simplified checkout, mobile-first, responsive design, and 1-Click checkout are all must-haves for any e-commerce player. Payment options like Apple Pay certainly play a significant role as well, and as such, online retailers should look to platforms that help them leverage these critical features at speed.
Shipping
Shipping has long been a top priority for retailers. Many have turned to minimum-order free shipping or pickup in-store options as a way to eliminate this extra consumer cost. However, another method may be on the rise. Unless a retailer's product is exclusive, price competition will run rampant for both product and shipping. To combat this, more and more retailers are "baking in" shipping costs to the product price. This tactic is a bit easier for retail brands to adopt, however, with 45% of consumers abandoning carts because of shipping costs tacked on at the end of the transaction, this method may be worth consideration.
Product
Amazon's product catalog is extensive, catering to consumers' ever-changing, real-time wants and needs. It's not realistic that every retailer should offer as vast an inventory, but for this reason, data has never been more important. As cloud, big data, and IoT converge, retailers are able to better analyze consumer data in real-time to better understand consumer needs and evolve their product offerings, they can digitalize or interconnect products by experimenting at a small scale and then growing on the cloud as business demands. Together, these four elements combine to build customer loyalty. However, the model would not be complete without a fifth, more nebulous but no less important element: brand value. At the end of the day, brand value is the most powerful way for retailers to compete with Amazon. Cultivating a unique brand value proposition that builds affinity and loyalty among customers is something Amazon will never be able to take away.