Introduction
Throughout Nisum's decades of experience in working across the spectrum of digital analytics tools, we have seen it all. And with so many options in the market for organizations to choose from, this paper will highlight the important aspects to consider before choosing a digital analytics software for your company. As you read through the following analysis, keep in mind that we have often found it to be the case that the best solution is comprised of a few integrated tools, rather than just one overarching software.
Why Digital Analytics Software
Today, online customers encounter many physical and digital touchpoints when interacting with omnichannel retailers. As a result, these customer interactions are often a complex journey that touches multiple departments of an organization— either directly or indirectly.
An illustrative example of one customer experience journey for just one purchase is below: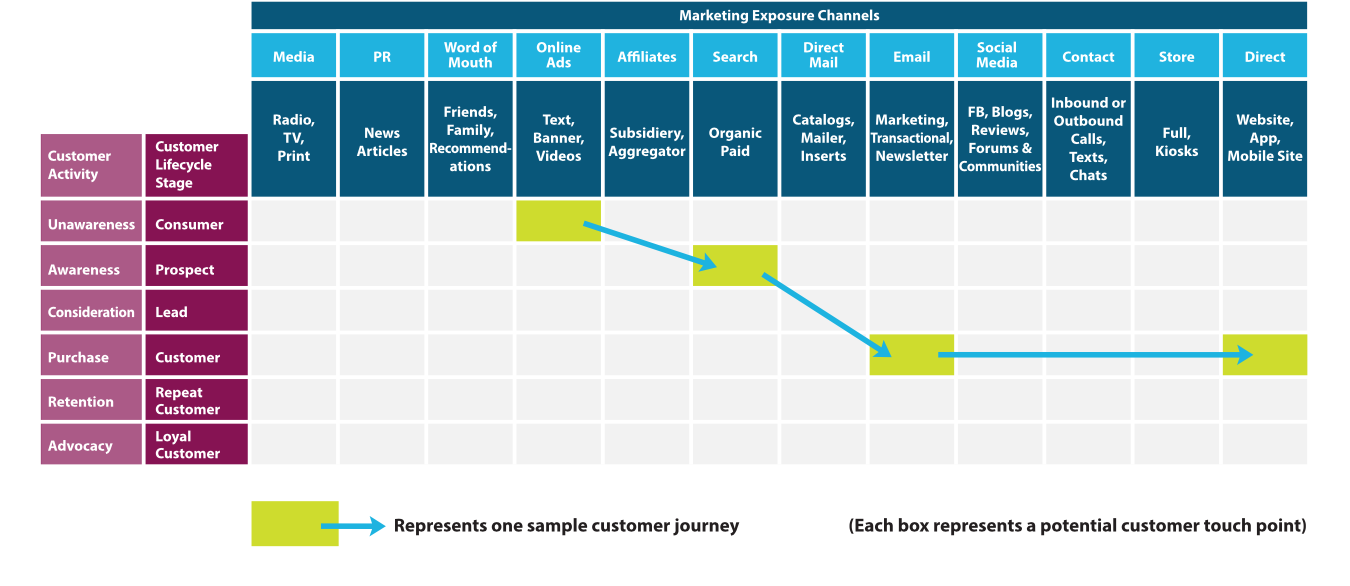 Understanding customer personas, as well as their typical and atypical purchase journeys, is critical to formulating an optimal digital marketing strategy At Nisum, one key pillar of our omnichannel ecosystem is 360 Customer Insights which uses digital analytics to provide a 360-degree view of the consumer These tools help track and measure customer traffic, page views, flows, behaviors, etc on a website, as well as other online channels, such as social media, video, calls and mobile For marketers to successfully adopt and implement an omnichannel approach, they must understand the relationship between channels, and how each contributes to the company's web and mobile traffic, consideration, conversions and overall customer experience.
Today's complex customer interactions generate more data touchpoints than ever before, in terms of both volume and variety It should come as no surprise then, that companies who have adopted a data-driven decision making culture are the most successful; in fact, 76% of executives from top-performing companies cite data collection as very important or essential, and data-driven companies are 3x more likely to rate themselves as substantially ahead of their peers in financial performance (5% more in revenues and 6% more in profits, according to one McKinsey Institute study)
However, adopting a data-driven decision-making culture is hard work The good news is that we have identified the necessary components in order to do so: digital measurement, analytics, and decision making.
Digital Analytics Evaluation Criteria
Given the digital analytics imperative, how does a company choose which tracking solution works best for its stakeholders? It's easy to get overwhelmed when comparing the features of different software solutions Some helpful questions to answer before evaluating digital analytics tools include:
1. Why is a new or different tracking tool needed? Why now?
2. What is missing from the current tracking/metrics software in use?
3. What type of data is needed from a digital analytics infrastructure or tool? 4. How, specifically, will the data from the new tool inform decisions and drive activities across the company?
Beyond these initial questions, there are other factors at play:
More data is not necessarily the answer
More data doesn't necessarily equate to a better measurement system, however, it
is important to be aware of the specific limitations in current reporting or decision making tools that a new system will fill Most importantly, it is key to ensure that more information will in fact drive better business decisions — and ultimately, more revenue or cost-savings for the company Tracking just vanity metrics is rarely useful and can even potentially do more harm than good.
Business user buy-in is key
In order for any business tool or software solution to be successful, it must be easy
for users to understand and adopt Even if your organization invests in the greatest solution out there if it's not used by employees, it's a failure Furthermore, it results in lost time, money, and resources that the IT team invested in implementing the tool.
Invest in tools that measure the right data
Investing in the wrong analytics tool leads to measuring the wrong data points,
and bad data ultimately leads to bad business decisions For example, a digital analytics tool using the last-touch attribution method for assigning purchase to a channel (say, mobile) often neglects the effects of user interactions in other channels prior to the last channel visited (for example, an email click, website visit, affiliate coupon site, google search, etc ) A marketer looking at this last touch data may decide to increase marketing spend only in this channel while allocating less towards the channels visited prior to the purchase where the user may have actually been influenced to purchase.
Some specific analyses and customer insights uncovered using digital analytics software may include:
User conversion and leakage metrics tracking

Popular purchase paths

Customer behavior tracking and segmentation

Social media tracking and marketing

Search engine optimization

Multivariate or A/B testing

Retargeting campaigns

Checkout and MyAccount flow optimizations

Merchandising and display advertising value optimizations

Monetization of digital assets

Email, chat, and call marketing

Website, mobile, and application optimizations
There are several other features to consider before implementing any digital measurement tool However, the first step is identifying goals for the new deployment ahead of time Then, reverse engineer your decision process based on what features or functionalities will achieve those goals.
Digital Analytics Software Features
Different digital analytics software offerings differ not only in the scope of what they measure, but also in cost, implementation, ease of use, and most importantly, the true business impact they can deliver. For example, when analyzing social sentiment, the scope of data to be measured may include niche Facebook post sentiment only or all social media sentiment; as well as whether it is desktop traffic only or desktop, mobile site and the application all combined seamlessly, etc
Offsite vs. onsite digital analytics tools
Offsite digital analytics tools measure a website/mobile channel's potential audience (opportunity), market share (visibility), and buzz (comments/social media mentions) across the Internet They can quantify the cumulative effect of social, affiliate, or other media on business goals and conversions, and identify how to best market the site or mobile app by identifying the keywords tagged to your domain Dashboards enable organizations to track which social media communities or users are most engaged, what campaigns prompt web interactions and social sharing, and which social networks or websites help bring traffic back to site
Onsite digital analytics tools, on the other hand, track and analyze a visitor's behavior once they are on your website These metrics include drivers, conversions, and customer experience, for example, onsite reports can show which landing pages lead to online purchases, along with other methods of measuring website performance This information should then be used to optimize or improve a website or marketing campaign's audience response, while also keeping track of the leakage points throughout the customer journey
Both types of analytics tools automate the process of measuring customer activities across multiple channels, and the good news is that most vendors now provide a hybrid approach Combining onsite and offsite metrics provides a more complete 360 view of what is driving desirable customer actions, which allows you to optimize marketing efforts and justify spending
There are several features to consider when deciding to deploy a digital analytics tool:
Data Sampling vs. Full Data
Data Sampling refers to using a randomly selected subset of available data to produce analysis and reports, which can increase the speed of processing reports when working with a large volume of data. However, if done incorrectly, it can reduce the accuracy of reporting As a result, most web analytics tools do not sample data upon collection While sampling can be a great way to extrapolate what is already happening on your website for analysis purposes when you want to do one-to-one marketing or more advanced data integrations, sampling does not draw upon sufficient data. For example, sampling does not allow you to send an email to all site visitors who added items to their cart but did not complete the purchase an email featuring all their items in their abandoned cart
Individual vs. Aggregate Level Data
In some analytics tools, the data remains anonymous for privacy reasons These tools excel in presenting data in aggregate so users can analyze website health as a whole. Other tools, such as KISSmetrics, IBM Tealeaf, and Mixpanel, attach behavior to specific browsers once they can be identified with an email address or other identifying information Google now enables user-level tracking with Universal Analytics, a revamp of Google Analytics launched in 2014, which allows companies to attach a unique ID to visitors (though not any Personally Identifiable Information), while other data systems can connect the unique ID to an email address or other such information Individual-level data is useful for tracking, identifying and targeting a particular segment of visitors or customers, for example, sending an email to those who abandoned an item in their shopping cart or experienced a particular website error
Price Range
There are a few free and freemium digital analytics tools, such as Google Analytics, Piwik, StatCounter, and Flurry Analytics Free analytics software can be quite robust and is almost always the right place to start if a company is just beginning to perform analytics Many organizations, such as startups, SMBs, and those whose website is not the main point of revenue generation, find that a free analytics product suits their needs Google Analytics, used on more than 25 million websites, is the most widely adopted web analytics tool; Flurry Analytics, which tracks 500,000 mobile apps, is widely used for mobile app analytics
Real-Time vs. Delayed Batch Tracking
Analytics tools vary in their real-time data capabilities, with value in both real-time and delayed batch tracking Real-time data can be useful for taking advantage of short-term events like holidays or news mentions, while historical analysis is useful for understanding how changes in website design or functionality affect long-term performance Google Analytics offers a real-time dashboard based on the most commonly used reports, however, report generation outside of what's included in that dashboard can take up to 24 hours (though Google claims that reports are usually processed in less than an hour) Chartbeat, GoSquared and Clicky are other options also well known for their focus on real-time analytics.
Multi-Channel vs. Last Touch Attribution Modeling
In many situations, a customer will engage with a company at multiple touchpoints before converting For example, an individual might land on the website after performing a search, browse the website, then leave and return a few days later via a display ad on Facebook before finally making a purchase Some analytics tools primarily use last-click attribution to determine which marketing effort (display ad, email campaign, paid search term, etc ) caused a conversion In the above example, this would be the display ad on Facebook. However, last-click attribution is generally considered to be an insufficient form of measurement Other tools offer various complex mathematical models to determine the degree to which each touchpoint contributed to a purchase Modeling can help companies establish their optimal portfolio of marketing endeavors through various channels.
Cross-channel Integration Levels
Most digital marketers use multiple channels to reach out to customers: search engine results, social media, email marketing, display advertising, etc They want to be able to review, evaluate and possibly even execute marketing campaigns through various channels, and preferably from one centralized place Various digital analytics vendors offer integration with other marketing technologies, such as search engine marketing, social media management, email marketing, and customer relationship management (albeit with varying levels of ease), allowing marketers to evaluate campaign effectiveness holistically and across all channels.
Arbitrary vs. On-The-Fly Segmentation
Segmentation is the practice of analyzing how different types of visitors behave, rather than viewing all of a website's traffic in aggregate Analysts might segment visitors based on traffic sources such as direct, search, social or email, or other factors such as geolocation, new vs returning visitor, device or browser type, etc.
Segmentation can surface insights such as which traffic acquisition channels bring the most valuable visitors, or what type of content prospects are looking for, depending on where they are in the sales funnel In the past, many web analytics tools required companies to pre-select how to segment traffic and data prior to implementation and data collection Now, many solutions allow analysts to explore data in multiple new ways even after the data has been collected.
Mobile Analytics In-Built or Separate
Mobile analytics involves tracking website visitors that use a mobile or tablet device, as well as users of a mobile application Most web analytics tools can do the former, and many offer a software development kit for the latter There are also some point solutions that focus specifically on mobile analytics such as, Flurry Analytics or Localytics.
In-Page Digital Analytics or Separate
Many web analytics tools focus on clickstream analytics, or the tracking of movement from webpage to webpage There are some point solutions, such as Crazy Egg, ClickTale, and IBM Tealeaf, which specialize in user interaction on one page In-page digital analytics include indicators like heatmaps, which show click activity on a page; mouse-tracking, which shows mouse cursor movement across the page; form analytics, which shows visitor behavior in filling out forms even when not submitted; eye-tracking, which use either real people or algorithms to show eye movement across a page; and, session replay, which are live recordings of an individual's website session Other tools also offer visitor segmentation around these capabilities
Some web analytics solutions such as Google Analytics and comScore Digital Analytix include in-page analytics capabilities, while Adobe offers integration with ClickTale In-page web analytics tools are often used to identify areas of confusion, technical errors, or barriers to conversion on a webpage. For example, visitors might be clicking a spot that is not an actual link, or user attention might be focused on the least important part of the page
Typical Limitations of Digital Analytics Software
Tracking Users Across Devices
With the explosive growth of smartphone and tablet use, companies are increasingly interested in tracking one person's activity across multiple devices. For example, an individual might first visit a website from his or her phone and then later return to make a purchase from a desktop computer At this point, unless the individual logs in or authenticates in some way, clickstream analytics tools will see two unique visitors, only one of which converted If the individual eventually makes a purchase or authenticates on the phone, some analytics products can connect the previous activity on that phone, prior to logging in, to the individual's unique ID.
Connecting Online and Offline Activity
Another challenge is the ability to connect online and offline consumer activity. An offline ad can influence an online purchase or vice versa, and clickstream analytics software by itself usually cannot identify such influence Many tools, however, integrate with other data systems, such as customer relationship management solutions and databases, in order to provide a more holistic picture of customer behavior.
Nisum Solution
At Nisum, we are passionate about leveraging big data to create successes for our clients We take a vendor/tool-agnostic approach in our consulting services, with the only goal of enhancing ROI for your BI and analytics investments We use a variety of methods, surveys, and market research to assess the current state and readiness of our clients' digital measurement infrastructure as well as potential future requirements, before recommending custom solutions that fit these requirements, budgets, and timelines, over both the short-and-long-term For more insight, please also refer to other Nisum whitepapers on BI and Analytics at nisum com/insights
We have robust experience in working with several vendors listed in this whitepaper which includes overseeing the implementation, maintenance, and improving adoption of their digital analytics solutions We have strong capabilities in providing 24/7 client support using Agile methodologies and leveraging our consultants across offices globally in the United States, Chile and India for end-to-end solutions
Who We Are
Nisum enables transformation for industry-leading brands: we know how to build strong emotional bonds between B2C clients and customers via smart technology solutions
Nisum is a digital commerce firm headquartered in Southern California Founded in 2000 with the customer-centric motto, Building Success Together®, we've grown to over 1,400 consultants across the United States, Chile, India, and Pakistan. Our philosophy and deep technical expertise result in integrated solutions that deliver real and measurable growth
Whether you're a hot startup or a major global brand, our approach is the same:
forge the most powerful connection possible between people, processes, and products to achieve unparalleled success At the intersection of business and technology, Nisum has everything you need to grow your organization From Strategic IT Planning, Agile Enablement, and Business Process Engineering to Application Development, Test Automation and DevOps, Nisum has you covered We specialize in building Adaptable Back-End systems such as Order Management, Inventory, and eCommerce to facilitate true omnichannel success for our customers