Nisum VP, Kyu Cho, was published in "Real Talk from Shoptalk: Brick and Mortar Remains a Key Component of Effective Omnichannel" in Retail CIO Outlook. Read the full article below or on Retail CIO Outlook.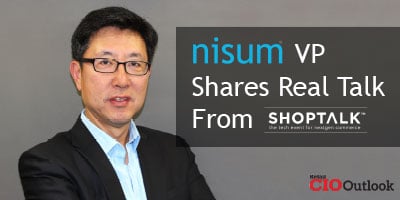 ---

Real Talk from Shoptalk: Brick and Mortar Remains a Key Component of Effective Omnichannel
According to recent numbers from the U.S. Department of Commerce,​ e-commerce sales accounted for 10.6 percent of total retail sales by the end of 2015. While this number continues to grow each year, and has increased by more than four percentage points in the past five years, the vast majority of retail sales still take place via traditional channels. This sentiment was echoed as a key discussion point for several panels at this year's Shoptalk, and the message to retailers is loud and clear: despite the common perception that physical stores are on the decline, brick-and-mortar isn't going anywhere and continues to remain a key component of successful omnichannel retail.
Following the rush to adopt online retail channels that characterized the early 2000s, retailers are realizing that in-store experience continues to remain important aspect of building immersive customer relationships. Even retailers that were founded solely as ecommerce companies, such as Bonobos, Birchbox, Warby Parker, and others have made the decision to expand their brands to have brick-and-mortar presences as consumers still like to touch, hold and sample things before purchase. It also gives retailers the opportunity to expand into new product lines or service offerings while simultaneously creating a physical space for customers to connect with and interact with a brand.​
For example, men's clothing retailer Bonobos has created popup shops to allow customers to try on clothes before placing orders. Similarly, eyeglass manufacturer Warby Parker carries a portion of their inventory in store locations to encourage customers to come in and try on different styles before they buy. Birchbox, a beauty subscription service, opened a store in New York City that allows customers to not only come in to the store to purchase products and interact with expert staff, but also offers salon services—something impossible to offer via an ecommerce presence.​
The key here is that a brick-and-mortar presence must extend and enhance the brand experience in some way in order to provide value, and ROI on the investment in real estate, staffing, inventory, etc. that a brick-and-mortar requires. Many e-tailers that are considering making the move to brick- and-mortar often begin by opening one or a few popup locations in different geographic/demographic areas in order to gauge the feasible success of a full-fledged store.​
Another theme that surfaced at Shoptalk was the trend toward smaller retailers leveraging the existing, sophisticated ecommerce platforms of larger companies, such as WalMart or Target, to gain exposure, awareness and customers for their brands. For example, The Honest Company uses Target's e-commerce platform to sell their wares. As traditional big box retailers begin to offer their ecommerce platforms as a service to smaller brands, WalMart, Target, Best Buy and others are quickly on their way to becoming the next generation eBay and Amazon.​
Interestingly, this trend is also carrying over into the brick-and-mortar side of the business. Smaller, ecommerce brands are opening up popup shops within physical store locations of other larger brands. Gap recently announced a partnership with Birchbox to open a number of Birchbox popup shops within Gap stores across the United States. In the same way smaller brands are leveraging larger brand's existing ecommerce platforms, they are also leveraging the brick-and-mortar locations of larger brands to expand their physical presence without making a huge investment.​
Brick-and-mortar continues to be a crucial element for successful retailers, even those originally founded online. In order to most effectively reach, engage and retain customer relationships, retailers must adopt a true omnichannel approach that takes advantage of the best that online and brick-and-mortar presences have to offer.​