Read the press release below.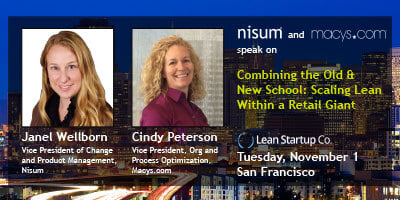 ---
FOR IMMEDIATE RELEASE
Nisum Partners with Macy's to Present at Lean Startup Week in San Francisco
Panel to discuss the top ten learnings to be applied to scaling Lean in a large enterprise
SAN FRANCISCO—Nisum, a leading global technology consulting firm, announced that Janel Wellborn, Nisum's Vice President of Change and Product Management, will present at Lean Startup Week in San Francisco on Tuesday, November 1, at 6:30PM. Presenting alongside Wellborn will be Cindy Peterson, Vice President of Org & Process Optimization at Macys.com.
The topic of the presentation will be "Combining the Old & New School: Scaling Lean Within a Retail Giant," and will detail how Macy's, a 150-year-old retail giant, went from testing one Lean team to funding 22 Lean teams in two years. As part of the discussion, Wellborn and Peterson will share the top ten learnings from this process that can be applied to scaling Lean in any large enterprise.
"Even large organizations must become nimble and agile to remain competitive in today's business landscape," said Wellborn. "In scaling Lean to achieve this, the retailer's journey is one of continuously testing, learning, and using build-measure-learn cycles, customer feedback, and business results to make believers out of even the most skeptical stakeholders and partners. Cindy and I look forward to sharing what success in this process looks like, based on our collective first-hand experience."
To learn more about Lean Startup Week, visit: https://leanstartup.co/.
To learn more about Nisum, visit www.nisum.com.
About Janel Wellborn, VP Product & Change Management, Nisum Janel has spent the last five years as a VP at macys.com, where she was a founding partner of MacysLabs – an innovation pipeline enabling the quick validation of product ideas and ultimately the delivery of "winning" products that meet our customer needs. In doing so, she and her partners implemented Lean principles and scaled a new delivery framework for 20+ Lean teams across the Macys enterprise. Last year, Janel left her role at Macys and joined Nisum to build a global consulting practice, helping her clients in South America and the US to build and scale Lean delivery teams across their own large enterprises.
About Cindy Peterson, Vice President, Org & Process Optimization, Macys.com Cindy Peterson is the Vice President of Macys Organization and Process Optimization team. Cindy and her team work across the Macys technology organization to help teams deliver more value to Macy's customers and help teams do more, better, and faster. Cindy's team has worked within the Macys.com organization to implement and scale lean methodology and practices and integrate the culture and mindset into how Macys.com delivers customer solutions at scale, drive employee engagement, and dramatically reduce the build, measure, learn cycle. Prior to Macys.com, Cindy has held leadership and consulting positions in both Semiconductor and Solar manufacturing with companies including Intel, Hitachi, and Miasole Solar.
About Nisum
Nisum a global consulting firm, and the preferred technology and business advisor for some of the world's leading Fortune 500 brands. Founded in 2000 with the customer-centric motto "Building Success Together®," they have grown to 3 continents by consistently enabling modernization for industry-leading brands. From Strategic IT Planning, Agile Enablement and Business Process Engineering to Application Development, Test Automation and DevOps, Nisum has you covered. We specialize in building Adaptable Back-End systems such as Order Management, Inventory and eCommerce. Thereby, facilitating true omni-channel success for our customers.
For more information please contact:
Lyhn Nguyen
Analyst, Sales & Marketing
Phone: 714.579.7979 x211
lnguyen@nisum.com