In his Forbes Council article, Nisum EVP of Growth and Delivery, Sajid Mohamedy, shares insights on how the pandemic crisis has emphasized the need for both B2C and B2B organizations to have a digital commerce strategy.
Read the text below or see the full article on Forbes here.
---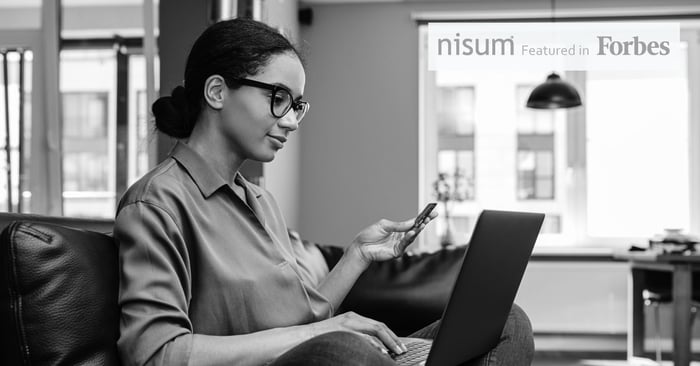 The past few months have called into question the traditional ideas of what constitutes business as usual as never before. What a new normal looks like has yet to be seen, but amid much uncertainty, one thing that has become abundantly clear is that every organization, whether B2C, B2B, nonprofit or government entity, has had to grapple with how to deliver its products and services digitally.
While B2B e-commerce, for example, was poised for growth this year even before the outbreak of Covid-19, the pandemic has truncated many timelines for rolling out digital capabilities. Nearly every type of business has had to reevaluate how to function entirely online — and quickly.
In fact, a survey released in late June from Bloomreach and Forrester (via Digital Commerce 360) revealed that 46% of B2B executives surveyed reported a spike in digital sales, and 64% planned to increase the budget for both their e-commerce sites and apps over the next 12 months.
However, as I have seen many times in my work developing innovative solutions to assist my company's clients throughout their own modernization journeys, a certain shift within an organization's collective internal mindset before it invests a single dollar in technology can be critical to the future success of its digital commerce initiatives.
Consider the following:
Every business is a consumer brand.
Organizations must reorient themselves around the idea that they are, in fact, consumer brands and in the business of digital commerce. Our connectedness and access to information have brought down the walls separating B2C and B2B, enterprise and individual consumers.
For many B2B businesses, nonprofits, hospitals, government entities, and others in heavily regulated or saturated spaces, digital commerce and modernization have been slow for myriad reasons. Cost constraints, slow-moving internal processes, a perception that the barrier to entry is too high for new entrants — the list of reasons goes on. However, I believe the mentality that certain marketing tactics or technology investments are "only for startups" or "only for B2C" companies has to shift.
In fact, businesses that haven't traditionally categorized themselves as consumer brands can and should apply many of the practices that leading B2C or direct-to-consumer brands have adopted around unified commerce and creating seamless user experiences for customers across channels.
For example, we see disruption happening in the healthcare space with companies like Capsule, which has been described as the Uber of pharmacies, and One Medical, a concierge approach to providing healthcare that aims to eliminate some of the most dreaded logistical aspects of going to the doctor through technology.
You should start with your customers.
This suggestion speaks to design thinking, an approach that has reportedly been used by the likes of Apple (paywall), Google and GE (paywall), to identify new solutions and opportunities through a deep understanding of the customers for whom you're building products, services and solutions.
As defined by the Interaction Design Foundation, design thinking is "an iterative process in which we seek to understand the user, challenge assumptions, and redefine problems in an attempt to identify alternative strategies and solutions that might not be instantly apparent with our initial level of understanding."
Essentially, this means you should think in terms of your user bases first and foremost and let that insight guide your product development and solution offerings.
For example, Alibaba realized that many of the SMEs using its e-commerce platform couldn't secure traditional loans from Chinese banks because the minimum amount banks would grant was still too much for what the companies needed, and their businesses were too small for the banks to consider. Alibaba, in turn, rolled out Ant Microloans, which offered much smaller loans to businesses. By late 2018, Ant had lent more than $13.4 billion to nearly three million SMEs.
Another example in the financial sector is Ellevest, a digital financial services advisor platform for women launched by Sallie Krawcheck, the former president of the global wealth and investment-management division of Bank of America, in 2016. Krawcheck realized that investing had largely been a "by men, for men" industry and created a platform specifically for women. In the past four years, the business has grown to offer women-focused impact investment portfolios and, most recently, to include debit cards, savings accounts and financial advice for its clients.
Digital commerce has long been the way of the future for brands across industries, though its arrival was certainly sped up by the pandemic crisis. As organizations recover from the emergency or Band-Aid measures they may have implemented to survive the past four months, investments in the right technology are equally important to building a lasting digital commerce solution as the necessary shifts in mindset about what it means to be a digital business today.