Nisum CEO, Imtiaz Mohammady, talks in this Forbes Technology Council post about how unified commerce is the evolution of omnichannel, utilizing a single interconnected system of records allowing retailers to provide a seamless customer experience across all channels.
You can read the full text below or view the Forbes Technology Council post here.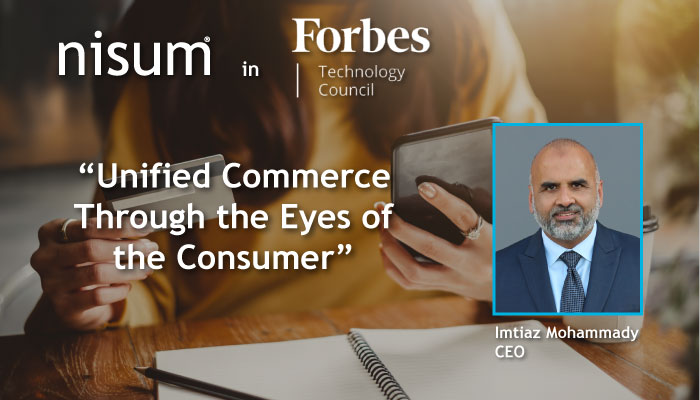 ---
Unified Commerce Through The Eyes Of The Consumer
Brick and mortar. E-commerce. Multichannel. Omnichannel. Direct to consumer. There's no doubt the retail industry has undergone a great number of iterations over the past two decades, spurred in large part by rapid advances in technology that have enabled brands to interact with their customers in new ways.
The term coined to describe the latest evolution in retail is "unified commerce." Simply stated, unified commerce means moving from multiple systems of record to one interconnected system of record.
But like the buzzwords that have come before, this technical definition means little to consumers. Instead, perhaps it is better understood in terms of customer experience.
At first, e-commerce was treated as its own channel, completely separate from the in-store experience. Think of the late 1990s: Amazon has just come on the scene, and big retailers realize that they must invest in a digital presence. Website capabilities are limited because the real goal of an e-commerce offering is consumer visibility.
During this era, independent systems were developed that catered to each channel's needs. With back-end systems for channels operating independently, customers weren't able to return online purchases in the store, for example. Similarly, if a customer saw something online that they wanted to buy in-store, it's unlikely that the website would be able to tell them anything about the inventory of that item in the store closest to their location.
As e-commerce capabilities evolved, retailers began to see that in-store and online consumer behavior often informed and mimicked one another. The challenge then became how to link this information together to meet consumers where they are and provide a seamless experience regardless of channel. Thus, the birth of omnichannel.
Omnichannel married not only in-store and online but also the myriad of channels shoppers use to shop. For example, Shopper A prefers to use a mobile device to ship items directly to his home at regularly scheduled intervals. Shopper B prefers to order an item online, electing for free in-store pickup as opposed to shipping directly to her home for a fee. Shopper C prefers to come into the store to touch and feel the items they're considering buying in person, but then ultimately orders those products online.
An omnichannel approach allows retailers to facilitate the experiences of Shoppers A, B, and C, but it is purely a front-end arrangement. While omnichannel can effectively link together a number of disconnected back-end systems to create one user interface and gives the appearance of one interconnected system, this can only take retailers so far.
While different channels may feel the same to consumers, in actuality, it is different back-end systems duct-taped together that provide this customer experience. The result is information that is often out of sync or not available when required. For example, a CRM tool that tracks a shopper's preferences or recently viewed items doesn't necessarily match up to a retailer's inventory system. The result could be a shopper who is served a promotion for an item they want, but the item is no longer in stock.
Unified commerce takes omnichannel's many systems of record and merges them into one system of record. In doing so, unified commerce creates one single, seamless customer experience across all channels: in-store, online and across devices. It provides unified visibility across systems, such as inventory, customer, product, fulfillment, etc.
For retailers, this is valuable because they're able to build a single, comprehensive view of each product and customer and, in turn, better serve their customers with what they want.
For consumers, ideally, this results in a better brand experience because old data, wrong data, out of sync data, etc. has been eliminated, and retailers are able to customize and guide a shopper's experience down to an individual level, irrespective of the channel they are using to browse. For example, customized promotions and offers are available to a customer when they shop either through electronic means or at the physical store.
The name "unified commerce" is self-explanatory. It's about creating a singular vision of the customer and building an ecosystem around them to provide a seamless shopping experience. Not only does this approach allow retailers to better serve consumers on an individualized level, but an interconnected system is also the foundation on which future technologies, such as machine learning and AI, can also be launched.