In his Forbes Technology Council article, Nisum CEO, Imtiaz Mohammady talks about how applying AI, ML, and VR technologies can optimize data collected from unified systems within a unified commerce solution, and supplement a seamless and frictionless shopping experience with a more individualized and customized customer experience.
Read the text below or see the full article here.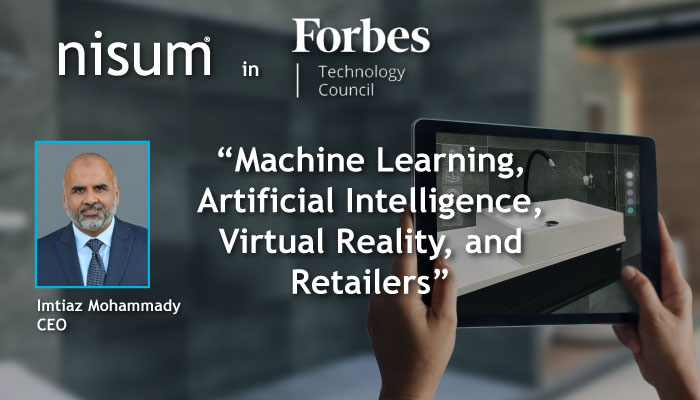 ---
Machine Learning, Artificial Intelligence, Virtual Reality, and Retailers
Retail today looks completely different than it did five years ago, and five years from now it will look completely different than it does today. Technology is advancing at a pace that requires retailers to not just keep pace with these changes, but stay ahead of the adoption curve in order to remain competitive and top of mind for consumers.
The past five years have focused largely on the sophistication of omnichannel retail. This essentially entailed putting nice wrappers around a number of backend technologies to present a frictionless user experience to the customer. However, the next five years will be defined by unified commerce or bringing all disjointed systems together into one system of record that provides cohesiveness and visibility across systems.
This integration will allow for a level of personalization that consumers have yet to experience, and a retail journey that is entirely seamless across every channel, device, and touchpoint with a brand. And all of this will be possible thanks to machine learning, artificial intelligence (AI), and virtual reality (VR).
Undoubtedly, these buzzwords are bandied about with some regularity in the context of retail and shopping. However, these technologies are very quickly making the transition from novelties to be marveled at during very specific activations and experiences to fixtures that will define many of the activities that comprise our daily lives.
How does this translate for retailers?
If we think about unified commerce as a seamless and frictionless shopping experience for consumers, machine learning and artificial intelligence play a key role in optimizing and making sense of data gathered through unified systems, which in turn creates a better individualized and customized customer experience.
Starting with the supply chain, inventory needs to be unified across channels, meaning the products offered online must mirror the availability of products offered in store, and shoppers must have the ability to purchase from anywhere.
Here, machine learning can be used to streamline and optimize inventory across channels according to purchasing patterns based on demographics, geography, seasonality, weather patterns, and a number of other variables so that each in-store location or fulfillment center is equipped with exactly the right amount of inventory to predictively meet customer demand at any given time. Machine learning systems can automatically build and evolve patterns by looking at the data on hand and use it to optimize just-in-time ordering and distribution of inventory to the right location.
Next-generation point-of-sale (POS) solutions powered by machine learning can also be used to fill in gaps in order to create a more holistic view of the customer on an individual level. Retailers will have the ability to marry the information from smart ID tags, online purchases, browsing patterns, and habits with demographic and geographic information to create completely customized offers. For example, a customer who just bought a crate for their new puppy in-store is a likely candidate to sign up for regular at-home deliveries of dog food that can be managed online.
Taking a look at another example, AI can help retailers target consumers with promotions that actually lead to purchases based on past browsing and purchase history. Whether that is 10% off online, 15% in-store, or free shipping, customers automatically receive the promotions that are most likely to make them convert. Taken a step further, some online retailers (see: Everlane) even allow shoppers to "name their own price" for merchandise, a practice known as dynamic pricing.
Another use case for AI in creating a personalized experience for shoppers is clothing retailer Levi's Virtual Stylist. The AI-based chatbot can help customers find a perfect pair of jeans. According to Fashionista, "It lives both on Messenger and Levi's website, and will ask you your preferences when it comes to fit, rise, amount of stretch and wash; it also asks you what size you are in another brand (say, Madewell) to determine your size in Levi's and suggest the right pair."
VR is probably the most consumer-facing of these next-generation technologies, but it is still in its infancy in regard to how it will redefine the retail experience. Shoppers know what it is and are eager to experiment with it, but it has not yet reached the point of being readily accessible and available to all consumers, as retailers are just now starting to realize its full potential, both in-store and online.
Some examples of the applications of VR in retail in the (not so distant) future could include VR mirrors that allow shoppers to virtually try on clothes, body scanning for the creation of completely custom apparel, and even 3-D printing of samples to allow consumers to try before they buy.
Right now, we've seen some retailers begin to dip their toes in the water with augmented reality (AR). IKEA offers online shoppers the ability to see what furniture would look like at scale in their homes, while beauty retailers like Sephora allow consumers to see what they would look like with various makeup products without actually applying any product to their faces.
Benefit Cosmetics even developed an app that allows users to see what their eyebrows would like before and after using the brand's line of brow makeup products. What is most important to note here is that these technologies will eventually be available at brick-and-mortar retail locations as well as in the shopper's homes to accommodate consumers where they are.
While some of these applications may seem far off, the reality is that they are not. In fact, the applications of machine learning, AI, and VR are becoming more evident and pervasive in the retail industry every day. It's critical that retailers stay ahead of these advances by constantly looking at the ways next-gen technologies can optimize their business, failing fast and pivoting as necessary.