B2B investment in eCommerce capabilities represents a dividing line between companies that are able to weather market volatility and those that don't survive. In his Forbes article, Nisum EVP, Sajid Mohamedy, shares how organizations can get started with their B2B sales. Continue reading below or read it on Forbes here.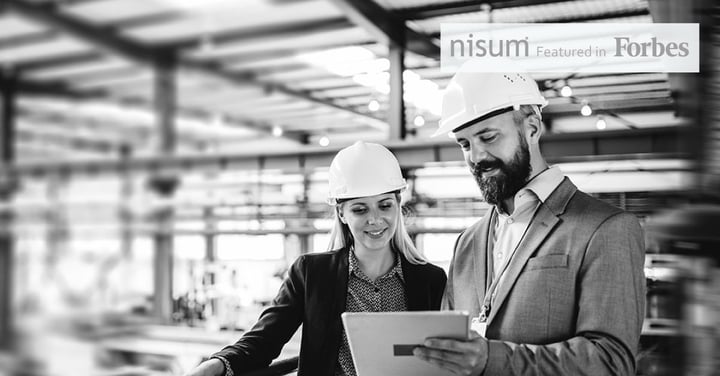 In June 2020, Digital Commerce 360 released the 2020 B2B Ecommerce Market Report, which found that B2B sales channels in all forms reached $9 trillion in 2019 — up 10.9% from the year prior. Over the same period of time, total manufacturing and distributor sales grew 1.5%, reaching $17.5 trillion.
It's clear that B2B digital commerce was on an upward trajectory, significantly outpacing manual sales overall. In fact, the report also found that digital channels collectively accounted for 51.4% of B2B sales made by manufacturers, distributors and wholesalers last year. Then a global pandemic happened.
Through all of the uncertainty wrought by Covid-19, it's clear that this pandemic has hastened any sort of gradual rise of B2B digital commerce. The investment in e-commerce capabilities has become an immediate need, as it represents a very real dividing line between companies that are able to weather market volatility and those that don't survive.
Across different B2B verticals, from manufacturing, machinery, chemicals and mining to construction and waste management, savvy organizations should now look at how to introduce more sophisticated "Amazon-esque" digital experiences into their selling processes.
Begin At The End ... User
A question I often hear from B2B clients when it comes to digital commerce is "where do we start?" And while the specifics naturally vary for each organization, the answer is always the same: Begin with the user.
I am a strong proponent of design thinking, a process that companies like Bank of America, GE Healthcare, Starbucks and Nordstrom have applied, to name a few. It's quite a robust methodology but essentially has organizations place themselves in the shoes of end users when they're developing their offerings and solutions.
What are the end user's expectations? What are their pain points? What prevents the interface or platform from being truly seamless, and how can we address those snags in the user experience? Asking and answering questions like these can help you create a digital commerce solution that's a fit for your specific business and your specific customers. This can be extremely valuable for B2B companies in specialized sectors or verticals with a distinct user base. For example, custom-built, secure trading channels may be important for chemical suppliers, while contractors may be looking for a fully automated experience when it comes to heavy equipment rental.
One size certainly does not fit all in B2B digital commerce. A thorough understanding of your user base is key to making investments in a technology infrastructure that will add value to your organization.
Remember, Even B2B Customers Are People Too
Another relatively straightforward yet often overlooked tenet of B2B e-commerce success is that you're ultimately selling to other people. In their personal lives, your customers are accustomed to technology from Google, Facebook, Amazon and other consumer-facing brands, and they're looking for the same usability and functionality in their professional tech as well.
When you're designing a digital commerce experience for your customers, it's critical to keep this in mind. Gartner found that B2B buyers spend only 17% of their time meeting with potential suppliers when they are considering a purchase, and when buyers are comparing multiple suppliers, that amount of time spent with one sales rep may fall to between 5% and 6%. The traditional role of the sales rep is becoming less impactful as buyers gain access to more information online and feel more comfortable and confident in doing their own research before making a purchasing decision. B2B suppliers shouldn't rely on a conversation to educate or persuade prospects. Today, your digital presence needs to do that.
Similarly, a 2019 survey of B2B buyers (download required) from Demand Gen found that 61% of buyers report that they are relying more on reviews and recommendations from peers when making a purchase. Given the specialized knowledge and expertise that exists within the B2B community, especially within industrial sectors, suppliers should be looking for ways to digitally amplify the voices of their buyers and customers, both for engaging new customers as well as cross- and up-selling efforts for existing customers. People post all the time using Facebook's "looking for recommendations" feature. What could that look like within the community of your customers and prospects?
Solidify A Strong Foundation For Future Success
The above suggestions are just starting points and speak to the larger idea that simply adding the ability to purchase online does not a B2B digital commerce strategy make. Now more than ever it's important to move quickly, but it's equally important to ensure a solid foundation is in place first.
This means taking the time to thoroughly understand your buyer, both in terms of their evolving digital behaviors, expectations and preferences, as well as the industry-specific nuances and needs of their business. This knowledge should then directly inform the development and build of your digital commerce offering and its specific features, capabilities and specs.
While certain sectors of the B2B industry may have been lagging in their adoption of digital commerce, I believe Covid-19 has made it necessary for survival, and the time to get started is now.