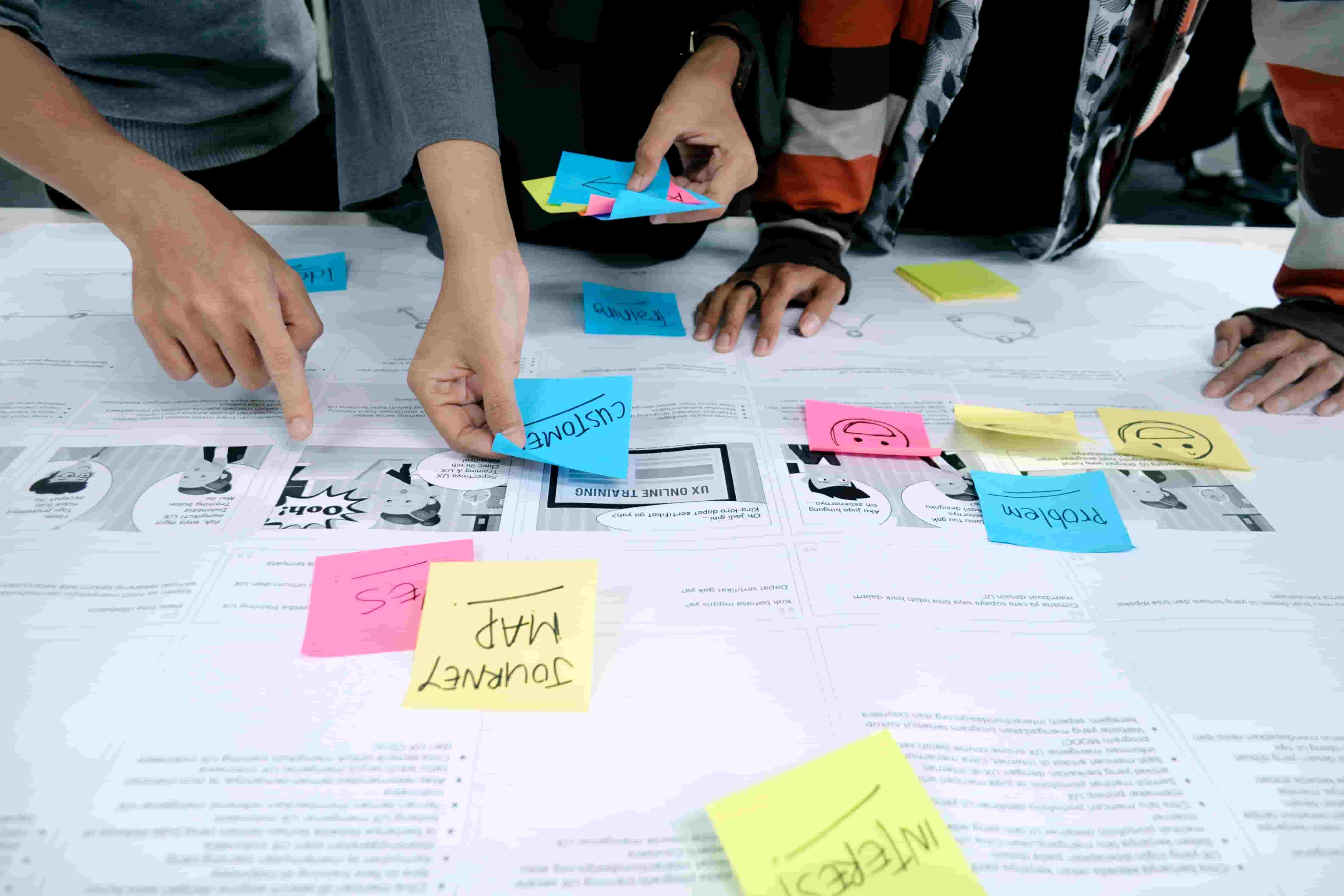 Source: Unsplash
No matter what kind of product you are building or what industry you are building it in, the customer is always your number one focus. Understanding who the customer is through understanding their needs and desires is essential to creating the best possible product. A customer journey map is a flow that illustrates all the interactions your customer has while engaging with your product, service, brand, etc. Customer journey maps allow you to grasp the essence of your customer.
The following outlines the four essential steps you must take to build an immersive and complete customer journey. They allow for better insights that give you the opportunity to build a more customer-centric product that will have better chances of achieving the desired outcome.
1.

Define Your Customer Persona
Defining your target customer is an extremely important first step as it will help you pinpoint the specific interactions this persona has with your product. You should collect all relevant data, and use it to build select profiles. It is common for companies to lack clear customer segmentation when starting this process, but conducting surveys, scanning through customer service calls, chatting with customer-facing employees, and investigating customer returns will help your company gather the data needed to segment your customers and build personas for those segments2. Using "I" statements when summarizing your data allows you to step into your customer's shoes, and feel what they feel. Getting as close as possible to your customer is crucial for you to understand what makes them take action. You will know you are heading in the right direction when you can fit all your customers into a few personas. You should have one buyer persona per industry or vertical that your company targets3. With a preferred set of well-defined customer personas, you will be able to build more accurate journey maps.
2. Define the Desired Outcome for Your Customer
Once you have identified your target customers, you must define what each target customer is looking to gain from your product. Remember, if your persona only represents a small portion of your customers, you risk defining the incorrect outcome for the product you wish to build. Additionally, it is important to remember that there are different types of outcomes. Maybe the outcome is based on the customer's happiness level using your product, or maybe the outcome is based on the efficiency with which your customer was able to complete a task4. No matter how you define the customer outcome, it is important to take into account the persona you built in step one. Defining the outcome based on the persona is crucial because it will allow you to acknowledge the steps your customer must take to get to that outcome. This will give you critical insights into where the pain points might be along each customer's path.
3. Pay Close Attention to Touchpoints
As you build the path of the customer journey towards the desired outcome, pay extra attention to the touchpoints along the way. Touchpoints are the points of interaction between the customer and your product. Closely focus on what the customer does during these touchpoints. Is it what you expected; are they doing something you didn't think of1? Then, ask what the customer is feeling while taking these actions. Is it a positive or negative feeling? If a customer has a painful experience, how can you make it a good experience? If the customer has a neutral experience, how can you make it a stellar experience? For example, if your customer is expecting to efficiently find a family car, one step along their journey would be to filter the results of their search. Imagine your customer wants to filter by the number of seats in the car, but your filter does not have this option. Your customer would probably feel very frustrated as they are hoping to find a car that will fit their four children. Recognizing what the customer is feeling towards your brand during each interaction will give you insights into how your product can grow.
4. Focus on Empathy
Throughout the entire process of building your journey map, put yourself in the customer's shoes1. If you can do this, you will be able to gain valuable insights on how you can improve your customer's experience. When mapping out pain points, empathize with the customer. Ask yourself, would this interaction meet their expectations? Would this interaction cause them pain? What if this problem happens again? The answers to these questions will help you understand how the customer interacts with your brand. The answers might even help you recognize why a customer does not become a return customer. Using empathy in your map is essential to getting a full picture of the customer and their needs.
In conclusion, establishing your target customer, defining the desired outcome of each customer, closely examining your customer touchpoints, and practicing empathy will help you create an insightful and complete journey map. The journey map will enable you to identify areas of product improvement that you can leverage to help your company grow by consistently developing products that delight your customers.
How Nisum Can Help
Since 2000, Nisum consultants have built a variety of customer journeys across different industries, and we can help jumpstart yours. With the insights from this process and the support of domain experts, you will be better equipped to find and execute areas of product growth in your company.
After you've completed your customer journey map, learn how we decreased product deployment time by 66% with DevOps methodology to create products faster and more efficiently.
Sources: