Image source: Unsplash
With the amount of businesses vying for customers today, the need to gain a competitive edge through unlocking insights from data has become paramount. However, as the amount of data in your organization grows, it can become increasingly difficult to manage and store. This is especially true for businesses that utilize point-to-point integration, which creates a complex ecosystem of stored information. The result is spaghetti architecture — a tangled web of systems with interwoven connections that are difficult to maintain and scale efficiently. With the utilization of a data hub, your business will gain a competitive advantage by enabling you to capture analytics and data insights, achieve better collaboration across teams, and sharpen decision-making abilities by collecting and utilizing data effectively.
What Is a Global Data Hub?
A data hub is considered the single point of access or center of an organization's data. It is where your company's various data sets are stored in a homogenous format with no duplicates. It includes de-duplicated and standardized data from different sources that have been cleansed and enriched with value-adds such as standard definitions and consistent nomenclature.
3 Main Advantages of Using a Global Data Hub
The following are three advantages of implementing a data hub.
The data hub acts as a single source of truth because a multi-layer database powers it in the background. Unlike data lakes and virtual databases, it provides data security, confidentiality (via access control), availability, and integrity.
Data in the hub can be easily curated through progressive enrichment by the product owners, which is persisted in the database and available for everyone to view.
Based on the push or pull-based data architecture, the data hub can easily support operational and transactional applications, which is superior to data lakes because data lakes are not supported by an underlying database system for performance throttling.
If you have a substantial amount of data that needs sorting, cleaning, and understanding, the global data hub provides a one-stop solution or what is frequently known as a single source of truth to store and understand all metadata.

How To Create a Data Hub
A data hub can simplify the governance process because the data is centered at a single location to create a single source of truth and enables data and information sharing by providing a means for collaboration between data producers and consumers.
Data hubs are created in two ways:
The bus model, which relies on the hub as its central point of reference
The spoke model, which is used when there isn't a standard reference model for the data

The spoke model also integrates control and governance speeding up information delivery because it is specific to each customer
The Amundsen data hub is an open-source data discovery and metadata engine that should be used as the base layer. It helps you search for specific information with a simple text search and a page rank in the search engine that can provide fast results based on table names, table descriptions, and data tags. The use of metadata can help data analysts, data scientists, and engineers extract useful information from their data. This application provides a metadata-driven structure to enhance productivity that can build trust in your data by providing:
Automated and curated metadata, such as descriptions of tables, columns, other frequent users, information about when the table was updated, etc.
If permitted, a preview of the data is available
A lineage display may be made available
Data hubs are easily scalable and follow a forward-looking push-based architecture, which means that the metadata is constantly changing, as opposed to a pull-based architecture, which only crawls a data source.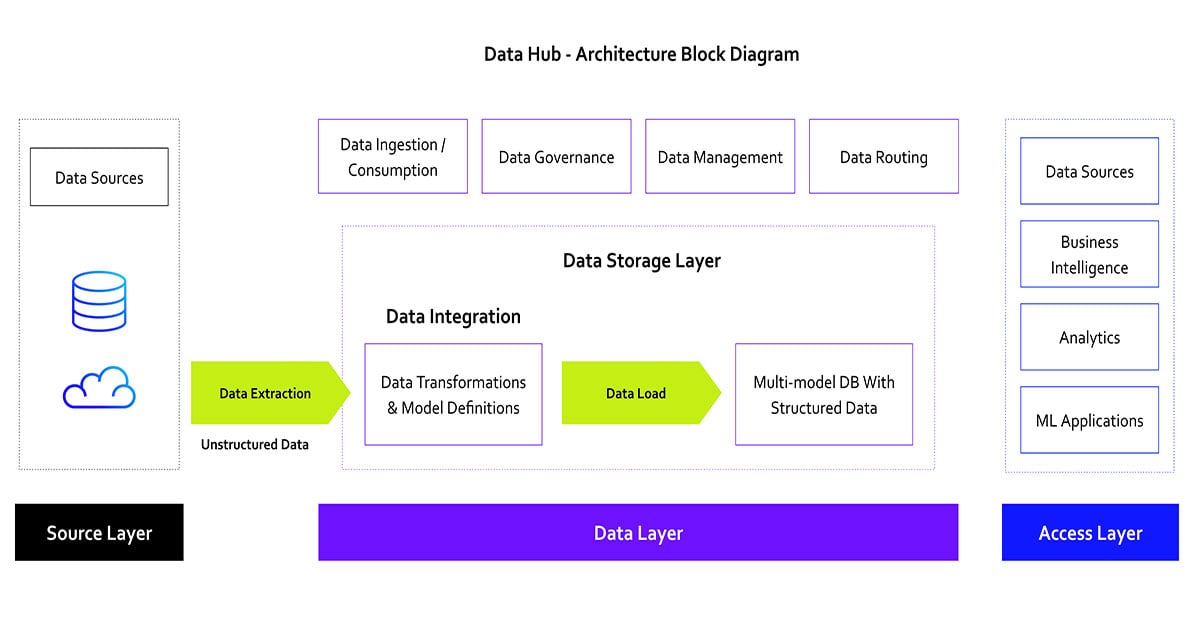 Critical Dependencies When Creating a Global Data Hub
Companies' most significant challenge when creating a global data hub is the complexity of building and maintaining it. It's not enough to have the right technology; you need to make sure that all your processes are working together seamlessly. Listed below are critical dependencies businesses must consider:
The fragility in crawling data sources, network connections (firewalls), and configurations — they must be managed by a separate competent team.
When data is ingested through non-incremental batch processing, it can suffer from operational dependencies such as slow responsiveness or croaking. This leads to extended gaps in the timeline for data ingestion, and pipelines would be paused while fixing the croaking and other issues.
The lack of changelogs in most data hub architectures that can hinder the quick identification of issues when something goes wrong.
High dependency on a centralized IT team to own metadata models, run data stores and indices, and support downstream consumers.

How Nisum Can Help
Nisum can help you incorporate a global data hub and overcome critical dependencies in your business practice. By working with us, your business will have access to the data it needs to take advantage of a market opportunity or better plan for the future. Once implemented, you can sit back and enjoy the fruits of productivity and decision-making. We are a flexible and holistic partner that provides clients with an accelerated competitive edge by delivering more innovative insights at scale. Contact us to learn more about our services.