See the copy below. See photos from the event here.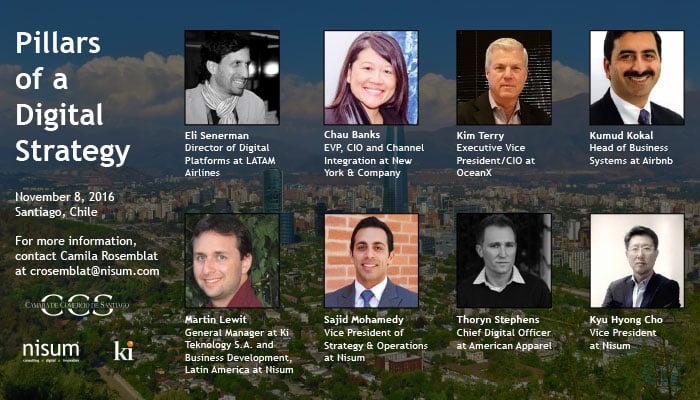 ---
November 7, 2016
FOR IMMEDIATE RELEASE
Global Retail Experts and Business Leaders Gather in Chile to Discuss Pillars of a Digital Strategy
Executives from Nisum, Ki Teknology, AirBnB, American Apparel, LATAM Airlines, New York & Company, and OceanX to speak on best practices for implementing digital innovation
Santiago, Chile – Nisum, a leading global consulting firm, in partnership with Santiago-based Ki Teknology, will today be hosting "The Pillars of a Digital Strategy," an event featuring global retail experts and business leaders discussing the elements of a successful digital strategy for today's enterprise.
International retail experts from ProChile's exports promotion program will speak on the digital architecture and ecosystem that modern organizations need in order to remain competitive; going above and beyond just implementing new technology to changing an organization's mindset and ability to more quickly adapt new technologies into business processes.
"We are thrilled to host international retail and business leaders at today's 'Pillars of Digital Strategy' event," said Carlos Lewit, CEO at Nisum Chile, and Director of the Board at Ki Teknology. "This will be an excellent opportunity to discuss the challenges today's organizations face as they look to innovate across a global ecosystem, and both Nisum and Ki Teknology look forward to sharing our joint expertise as a nearshore option at the intersection of business and technology, offering unique services, areas of expertise, work methodology and, of course, our exceptionally talented team."
Featured speakers include:
Chau Banks, EVP, CIO and Channel Integration at New York & Company

Kyu Cho, Vice President of Consulting Services at Nisum

Kumud Kokal, Head of Business Systems at Airbnb

Martin Lewit, General Manager at Ki Teknology S.A. and Business Development, Latin America at Nisum

Sajid Mohamedy, Vice President of Strategy & Operations at Nisum

Eli Senerman, Director of Digital Platforms at LATAM Airlines

Prashant Sharma, Vice President of Global Sales Operations at Nisum

Thoryn Stephens, Chief Digital Officer at American Apparel

Kim Terry, Executive Vice President/CIO at OceanX
About Nisum
Nisum is a global consulting firm headquartered in California. Founded in 2000 with the customer-centric motto "Building Success Together™," we've grown to 3 continents by consistently enabling modernization for industry-leading brands. From Strategic IT Planning, Agile Enablement, and Business Process Engineering to Application Development, Test Automation, and DevOps, Nisum has you covered. We specialize in building Adaptable Back-End systems such as Order Management, Inventory, and eCommerce. Thereby, facilitating true omnichannel success for our customers.
For more information, please contact:
Lyhn Nguyen
Analyst, Sales & Marketing
Phone: 714.579.7979 x211
lnguyen@nisum.com