Nisum VP of Strategy and Operations, Sajid Mohamedy, was featured in "The World Is (Still) Flat: The Rise Of The Global Customer" in Retail TouchPoints. Read it on Retail TouchPoints here or find the full text below!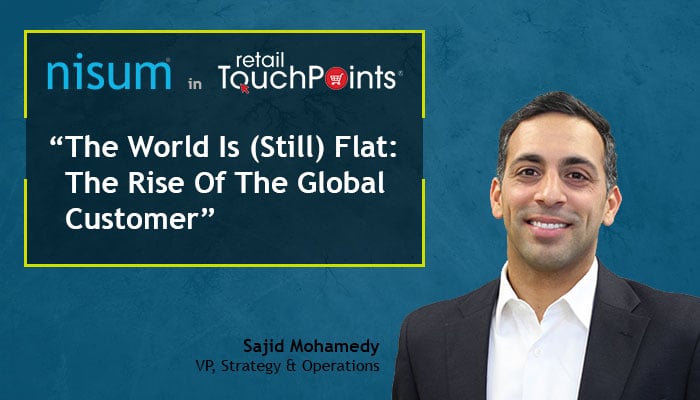 ---
The World Is (Still) Flat: The Rise of the Global Customer
In 2005, Thomas Friedman told us that the world was flat. A New York Times columnist covering globalization and technology, Friedman presented the idea that advancements in technology — 24/7/365 information access, the ability to communicate globally in real time, etc.— had effectively leveled the playing field to allow for a truly global business ecosystem.
A little over 10 years later, omnichannel has heralded in a new age of global commerce possibilities. However, international expansion is not just icing on the cake of an organization's existing domestic business. To be successful as a truly global enterprise, expanding into new borders must be done strategically.
Let Business Drive Omnichannel…
…Not the other way around. Too often, organizations get caught up in the hype surrounding an industry buzzword like omnichannel and think, we need to do omnichannel — and fast — to remain competitive. While this may be true, a race to market is never the way to win, especially in new, foreign markets.
It's critical to understand local markets. Customers in new markets are different from customers in existing markets, and what has worked in the past may not translate. Each market's consumers will have different behaviors, motivations and even uses for an organization's products/services.
We're in the Age of Customer, where customers primarily dictate the rules of engagement. Omnichannel should start with a deep knowledge of your customers, using 360-degree customer analytics. With a strong understanding of this new "Empowered Customer," businesses can build out omnichannel initiatives and the associated technologies around it. Too many times, we see brands approaching omnichannel for the sake of doing omnichannel. It's important not to forget that you're doing this for the customer, and customers are different in different regions of the world.
Iterate, Test And Measure
Companies, especially incumbents, need to think about how they can act extremely fast when going to market. They can't get bogged down in long planning processes. Instead, they need to establish strategy, culture and leadership direction such that they can be nimble and fast. To do this, companies need to be okay with trying something, and throwing it in the garbage if it doesn't work. But this can only work if the whole company subscribes to a nimble, lean methodology and mindset. This is especially important when expanding to new countries — what works in one place may not work in another, and the faster organizations realize and adapt to these market signals, the less is lost in sunk costs and resources.
View Software Architecture As A Moving Target
To keep pace with today's speed of global business, organizations need to adapt a flexible, dual-speed architecture to accommodate both customer-centric objectives and business drivers.
A slower speed is completely acceptable, and maybe necessary, for those systems that involve back office operations, issues of high risk, privacy, security and stability. However, nimble systems that allow a company to move quickly are what will give a competitive edge in acting fast and adapting systems for a changing business environment and customer needs.
The dual-speed architecture is analogous to a race car, which has a large back tire and a small front tire; for every revolution of the back tire, the front tire has many revolutions. The back tire provides stability while the front tire is adapting to road conditions and steering the vehicle.
International success is not something businesses can expect to happen overnight. As such, expansion should not be viewed as a big bang approach. The smartest companies build incrementally to minimize the impact of unsuccessful initiatives. At root, this goes back to the importance of continuous iteration. As solutions and systems prove to be successful in different markets, organizations can begin incorporating them into the overall business ecosystem.