New leadership at Nisum Chile will deepen their focus on true partnerships to deliver client value. Leon Sacks and Camila Moreno in their new roles as General Manager and Marketing Director respectively were featured in Revista Gerencia's March edition. Access the articles on Revista Gerencia's digital magazine on pages 4 and 6 or read the English translation below.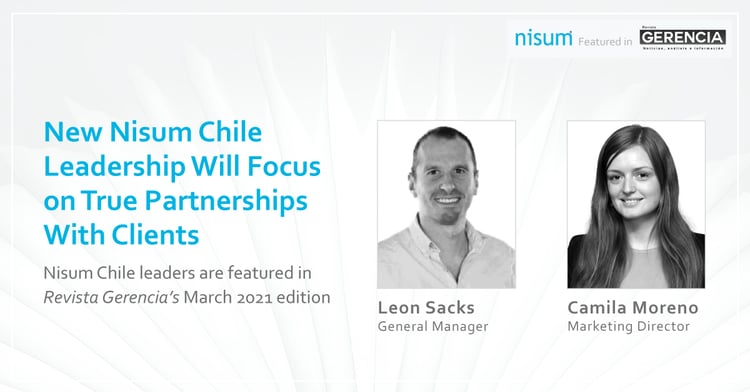 Find Leon's article on Revista Gerencia's digital magazine here or continue reading below.
Nisum Strengthens Its Strategy in Chile
As part of the strategic international expansion initiative that Nisum started a few years ago, Leon Sacks was named VP and General Manager in Chile with the main responsibility to continue consolidating local operations. Since its beginning, Leon has been part of the company and has had a positive impact on the different roles he has played. "Today, the focus in Chile is to continue consolidating our operation, help our clients reach their business goals, and be a true partner for their development," explained the executive. The general manager will report to the company's International SVP who leads and coordinates the expansion strategy in new markets.

Nisum has eight offices throughout the United States, India, Pakistan, and since 2012, in Santiago, Chile to cover the demand in Latin America. Nisum Chile is a unique software development center in the region that today, has a talented team of more than 120 bilingual professionals, and leads an ambitious expansion and growth strategy.

Moreover, Leon Sacks highlighted that "The accelerated digital disruption resulting from the pandemic has brought great challenges and opportunities for Nisum and we are excited to address them."

Find Camila's article on Revista Gerencia's digital magazine here or continue reading below.
Nisum Appoints a Marketing Director
Camila Moreno assumed the role of Nisum's Marketing Director for Latin America. This appointment is part of its expansion strategy focused on its go-to-market model that was defined in 2020 and launched in the US; they plan to replicate it globally.

Camila is a publicist specialized in strategic marketing. She has over 11 years of experience in demand generation, brand management, customer experience, and business development. Camila's role is to accelerate the go-to-market strategy in LatAm, and she is responsible for its development and execution.