In Nisum CEO, Imtiaz Mohammady's Forbes article, "From Omnichannel to Unified Commerce: Why Is It Critical?" He talks about how to take your omnichannel strategy to the next level with a unified commerce solution. Read it on Forbes here or continue reading below.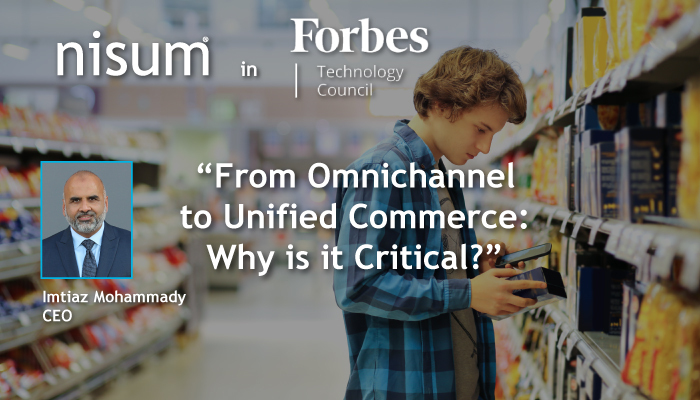 ---
From Omnichannel To Unified Commerce: Why Is It Critical?
Take a moment to consider all of the systems, platforms, and applications today's retailers must use in order to present a cohesive brand experience to shoppers. There's the point of sale (POS), supply chain and inventory management systems, CRM, e-commerce, mobile channels, fulfillment systems, cross-channel return systems, social commerce, and a myriad of others. To make matters more complex, every few months new channels are added for consumers to browse and shop.
Even just a few years ago, the solution to this rapid channel proliferation seemed clear: Retailers needed to take an omnichannel approach and combine all of these back-end functionalities in order to create a frictionless customer experience across channels.
Many opted for custom or homegrown integration solutions that essentially involved putting front-end wrappers around a patchwork of disconnected business applications. This model was viable for a time but quickly began to buckle under the weight of the "Frankenstacks" that evolved to accommodate a never-ending stream of capabilities and functionalities. Retailers were left unable to provide a seamless, personalized customer experience across channels.
Unified commerce emerged as a single platform that supports commerce for stores, mobile, and the web, bringing together both the front-end experience and back-end applications of a retailer in order to organize and analyze data in ways that actually make a difference, leading to more efficient business operations and happier customers.
This all sounds great, but how can retailers ensure a seamless transition between a number of disconnected systems into one unified platform? According to a survey by Boston Retail Partners (BRP), 81% of retailers plan to deploy unified commerce platforms by the end of 2020. That means that the vast majority of retailers have just around 12 months to implement a new software system.
Here are some key considerations to keep in mind when building out a unified commerce strategy.
The mobilization of retail is real.
Consumers are looking to retailers' mobile presence to provide more than just purchase ability. While 41% of consumers plan to increase mobile shopping over the next two years, 64% of consumers select retailers based on product information and details available via their mobile devices. Delving a bit deeper, consumers are starting, pausing, resuming, and finalizing their purchasing journeys across channels and devices. For example, even if shopping in a store, customers are using their mobile devices to compare prices with other retailers or find relevant promotions. Retailers must enable a customer experience that picks up right where shoppers left off across devices, in-store and online.
There is no such thing as 'out of stock.'
A single interconnected system of record should eliminate the phrase "out of stock" from a retailer's vocabulary. When selling channels are integrated, inventory management becomes much more efficient. An item may be out of stock at the shipping warehouse, but a unified commerce system allows a retailer to know that item is in stock at a nearby brick-and-mortar location and can be easily shipped or held for pick up for the consumer.
Don't let shipping costs cost you a sale.
A recent study from the NRF found that 68% of online shoppers expect free shipping even on purchases of less than $50 and that 47% of shoppers will abandon an online purchase if shipping isn't free. Furthermore, 38% of online shoppers expect free two-day shipping, and 24% expect free same-day shipping.
While it's certainly true that Amazon has drastically impacted consumer expectations when it comes to shipping, it is possible for retailers to compete under a unified commerce model by leveraging the inventory efficiencies previously discussed. Consumers will similarly balk at having to deal with costly and complex returns processes. The ability to buy online and return in-store, or automate self-service returns is key for retailers.
Create next-level personalization.
A personalized and consistent experience across all of a retailer's channels is table stakes for the vast majority of consumers, and unified commerce allows retailers to know their customers, what they like, when they buy, and what they would pay more for, better than ever before. When business applications are disconnected, the possibility that retailers are missing key connections between data, or using old data is much higher, resulting in a less-than-ideal experience for the shopper.
However, a holistic picture of past purchases, timing, preferred channel, and promotion usage allows retailers to cut down on extraneous marketing efforts and increase sales. For example, knowing one customer will purchase without a promotion while another customer will only purchase with a 20% coupon is important information for retailers.
The points I've discussed here are just some of my absolute must-haves for retailers in implementing a unified commerce solution. Remember, the ultimate goal is to create a frictionless customer experience that allows a shopper to browse for an item on a tablet and then show up in-store and have a store associate know exactly what they've come to see. Retailers can only facilitate these types of experiences by building a 360-degree view of the customer housed in one centralized system.