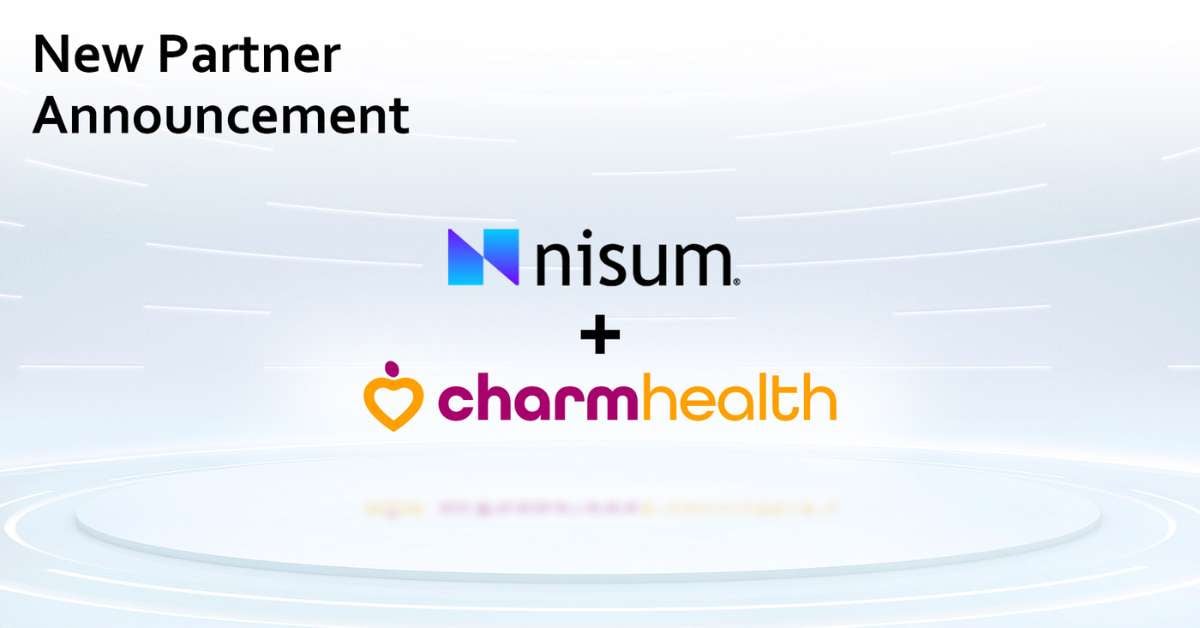 Nisum, a global digital consulting firm specializing in digital transformation and IT services, and CharmHealth, a leading provider of comprehensive healthcare technology solutions, are thrilled to announce their strategic partnership. This collaboration brings together the expertise of two industry leaders to deliver innovative healthcare solutions and drive digital transformation in the healthcare sector.
Nisum, with its extensive experience in digital consulting and IT services, has a proven track record of assisting organizations across various industries in their digital transformation journeys. Their commitment to delivering tailored solutions and fostering business agility aligns perfectly with CharmHealth's mission to provide comprehensive healthcare technology solutions.
CharmHealth is recognized for its advanced and user-friendly electronic health record (EHR) system, designed to streamline workflows and improve patient care. With a focus on providing end-to-end healthcare solutions, CharmHealth's platform encompasses electronic medical records (EMR), practice management, revenue cycle management, telehealth, and more.
Nisum has been an exceptional ally in the healthcare industry, consistently delivering innovative custom solutions that have transformed large medical practices and health verticals. This strategic partnership between CharmHealth and Nisum signifies a profound commitment to delivering better patient outcomes and pushing the boundaries of innovation in healthcare. Their motto, 'Building Success Together®,' resonates deeply with our own values and philosophy.
-Venky Chellappa, CharmHealth+ Bioverge Digital Health Venture Fund
Through this strategic partnership, Nisum and CharmHealth aim to revolutionize the healthcare industry by combining their respective expertise. Clients of both organizations can look forward to the following benefits:

Comprehensive Healthcare Solutions
The partnership will result in the development of advanced and integrated healthcare solutions covering a wide range of functionalities. This will enable healthcare providers to streamline their operations, improve patient outcomes, and enhance overall efficiency.

Digital Transformation
Nisum's expertise in digital transformation, coupled with CharmHealth's cutting-edge healthcare technology solutions, will empower healthcare organizations to embrace digital innovation and accelerate their transformation journeys.

Customization and Scalability
Clients will benefit from tailored solutions that address their unique needs. Nisum and CharmHealth will work closely with healthcare providers to understand their specific requirements and deliver scalable solutions that evolve alongside their organizations.

Seamless Integration
By leveraging their combined technological capabilities, Nisum and CharmHealth will facilitate the seamless integration of healthcare systems, enabling interoperability and data exchange between different platforms.
Our partnership with CharmHealth co-creates scalable, cloud data based, bespoke healthcare technology solutions. This isn't just a partnership, it's a pledge to transform healthcare provider operations and craft personalized patient experiences, through digital innovation.
-Ravi Narayanan, VP and Global Leader - Data & Analytics
Contact a Nisum expert today to build and implement a data transformation strategy customized for your business.
About Nisum
Nisum is a renowned global digital consulting firm headquartered in Silicon Valley. With a team of 2,000 professionals spread across North America, Latin America, India, and Pakistan, Nisum brings over 20 years of industry experience in digital strategy and engineering, insights and analytics, blockchain, customer experience, business agility, and software development. As a trusted advisor to leading Fortune 500 brands, Nisum empowers businesses across diverse sectors to foster innovation, boost agility, and elevate customer experiences.