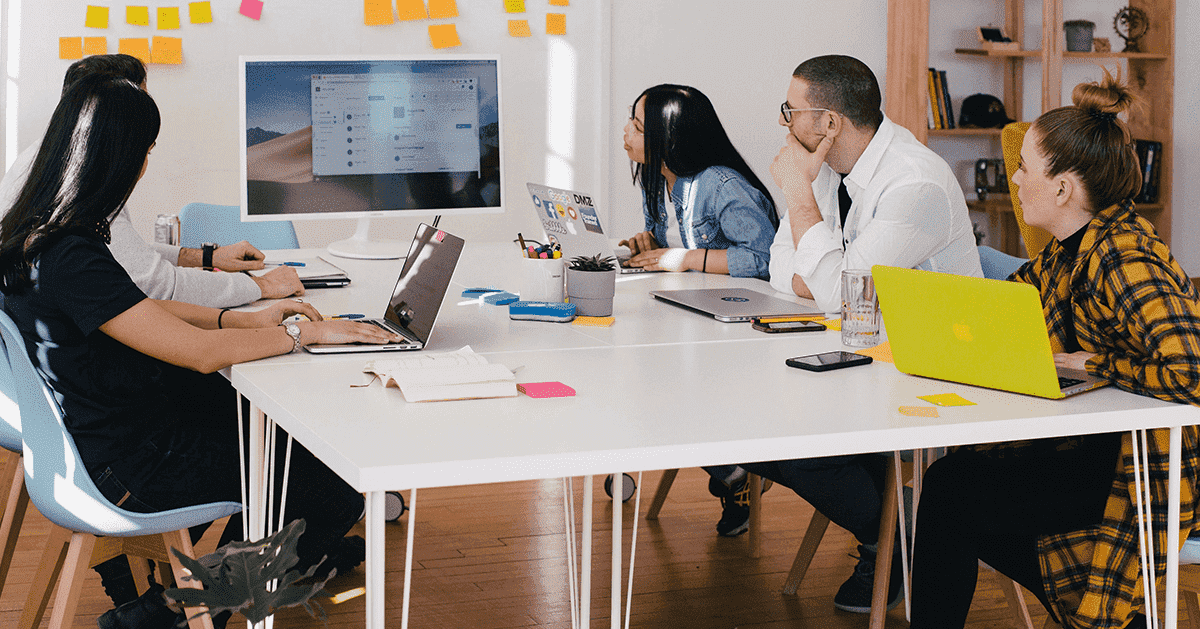 Picture Credit: Unsplash

A self-managing team is a group of motivated and cross-functional individuals working towards a common goal. They can adapt and make decisions based on a given situation, with or without supervision.

Self-managing teams that use the Agile methodology have many advantages. They tend to see gains in efficiency and experience higher development velocity. They can respond to market expectations and fluctuations more rapidly.

Self-managing teams may sound like a simple route to chaos; however, when set up accurately, that is far from the case and could be a driving force for a better-managed team. At times these teams can be composed of members that do not report to each other within the company's hierarchy. In this case, there is no leadership model. In most cases, self-managed teams don't need a boss to micro-manage them, but they need a sense of leadership.
Customer-centric and Decision Authority Define Self-Managing Agile Teams
When a team is customer-centric, they know what the customer wants and what is suitable for the product. This type of self-managing Agile team takes customer expectations and feedback seriously and therefore feels more responsible for building a product that matches their expectations. This acts as a morale booster and self motivates the team to accept greater responsibility. Ownership rests with the team. It has the autonomy to make minor decisions and make them faster as a group.
By shifting decision authority for minor decisions to team members, the stress on management will be reduced. There is less back and forth waiting for bottlenecks to clear as decisions move through a hierarchy. This allows for a more innovative, creative, and conducive environment. The team does not need to wait for the work to be assigned but can proactively identify the work needed to be completed. They can then define priorities and create a project plan.
A great example of a boss-less concept is the Beehive model. The Beehive model consists of 3 kinds of bees:
Queen Bee
Female Bee/Worker Bee
Male Bee/Drone Bee
In this table, the Beehive model is broken down and translated into Agile team member terms:
Beehive

Agile Team Characteristics

Work

Queen Bee

Mentor, Terminator
(SM or Project Coordinator)

Provides high-level leadership and direction
Identifies threats and safeguards the team

Sets policies and innovates the Agile process

Male Bee/ Drone Bee

Promoter, Translator (Product Owner, Architect)

Understands customer and stakeholder requirements
Secures customer involvement
Understands functional and technical requirements

Female Bee/ Worker Bee

Champion, Coordinator
Backbone (Developers & Testers)

Manages cross-functional developers and testers
Serves as domain experts
Works on the day-to-day activities: stories and tasks
Pain Points When Not Using Agile With Self Managing Teams
Self-managing teams can work miracles if they have a framework. If they don't have a guidance model, they can encounter many difficulties. Here are a few difficulties and challenges badly organized self-managed teams face:
They need continuous supervision and refereeing
They face delays and a lack of quality due to a lack of leadership
They hesitate to accept new challenges
They waste time when micromanaged
They shift team members' responsibility
What a Successful Agile Self-managed Team Looks Like
Successful self-managed teams that embrace the Agile model have the following characteristics:
Manages day-to-day activities
Communicates effectively
Retains a high Agile maturity
Makes decisions mutually for work assignments
Maintains a high level of trust and respect
Removes internal blockers
Determines short term team goals and priorities
Sustains self-management for longer periods
Warning Signs Self-managed Teams Face
Once a team develops a functional working Agile methodology, they still need to embrace feedback and constant self-evaluation to avoid the following challenges:
Maintaining a constant pace to sustain development
Falling back to old ways when failures or challenges are faced
Diluting the Agile process with other frameworks
Failing to identify gaps caused by stakeholders, clients, or team members (i.e., product owners)
Failing to define roles and responsibilities, boundaries, and purpose
Keeping Self-managed Team Consistent
Once you have your teams established, self-checking and avoiding the challenges make sure to set up a pull system so they can pick up their assigned stories from the backlog. Teams need to maintain a commitment to educating themselves on the benefits of self-managed teams. They need to know how to self-manage, develop, and maintain themselves. Maintaining knowledge and training on these concepts will allow them to keep their pace and efficiency without outside help.
They will also need to identify opportunities to share observations with the team regarding retrospectives, estimations, and dealing with unexpected changes. These discussions will not only help them evolve as a team but also get better at innovating. Scrum ceremonies are an excellent opportunity for the team.
Any motivated team members should be encouraged to take ownership of the project activities like leading reviews, validations, clarifications sessions that include clients, stakeholders, and architects.
And finally, as the team matures and constantly improves, they will need to be involved in goal setting and planning activities. This will not only increase their Agile knowledge but also their sense of ownership.
How Nisum Helps Companies Achieve Business Agility
Nisum provides a measured approach to Business Agility that helps companies continuously improve their business confidently and sustainably. Nisum is an experienced partner who orchestrates measurable, holistic Agile transformation anchored in cultural change and enabled by technology excellence.
Nisum has a team of full-service certified agility experts who seamlessly integrate with clients from a cultural and mindset change perspective. Using our unique Scrum-Team-as-a-Service model and proven methodology and digital measurement tools, we elevate businesses at any level of transformation and maturity.