Read the article here or see the copy below.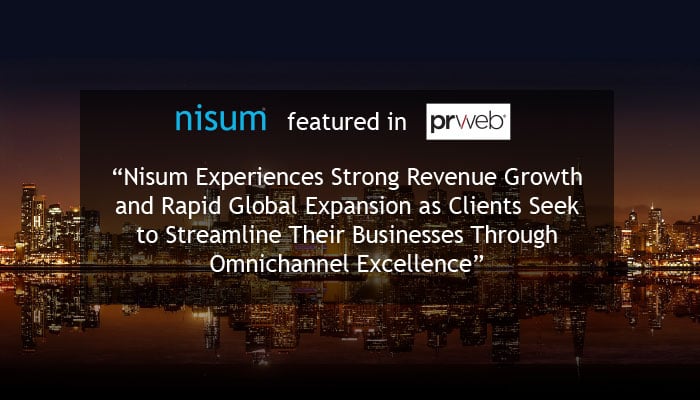 ---
BREA, CALIFORNIA (PRWEB) FEBRUARY 02, 2017
Nisum, a leading provider of global technology+business consulting services, today announced strong YoY revenue growth along with significant gains in the areas of customer acquisition, employee growth and service innovation. Nisum's wide portfolio of offerings support Fortune 500 companies in developing, implementing and optimizing their omnichannel strategies to better connect with customers across multiple platforms.
"Omnichannel is a must for today's digital and connected enterprise," said Imtiaz Mohammady, CEO of Nisum Technologies, Inc. "Nisum's success over the last 12 months is a direct result of the entire team's continued dedication to developing solutions that allow our clients to engage with their customers where they are. Looking ahead, we will continue to pioneer to agile business models in ways that allow our clients to reach their full growth potential."
In addition to reporting revenue growth over the past 12 months, Nisum has experienced employee growth in the U.S. and Latin America, including the hiring of several thought leaders who bring specific expertise in creating innovative omnichannel solutions. This has also been a landmark year for the company in terms of customer acquisition, while maintaining relationships with some of the largest industry leaders.
Nisum has also received recognition for their solutions across the industry, including the following achievements:
Nisum CEO, Imtiaz Mohammady has been nominated in the 16th Annual Excellence in Entrepreneurship Awards from the Orange County Business Journal

Nisum CEO, Imtiaz Mohammady was recognized as a finalist for Best Technology Manager in San Francisco's Timmy Awards

Nisum was selected to be featured in IBM Business Partner spotlight channel at Shop.org Digital Summit

Nisum executives selected to speak at a number of industry events, including:
o IBM Amplify o Forrester's Digital Transformation o Dreamforce o Global E-Commerce Leaders Forum, NYC and LA o Agile Alliance Agile Conference o Lean Startup Week o O'Reilly Software Architecture Conference, San Francisco
For more information, please visit /.
About Nisum Nisum is a global consulting firm headquartered in California. Founded in 2000 with the customer-centric motto "Building Success Together®," Nisum has grown to 3 continents by consistently enabling modernization for industry-leading brands. Nisum provides a range of services, from Strategic IT Planning, Agile Enablement and Business Process Engineering to Application Development, Test Automation and DevOps. Nisum specializes in building Adaptable Back-End systems such as Order Management, Inventory and e-commerce. Thereby, facilitating true omnichannel success for customers.