Read the press release below.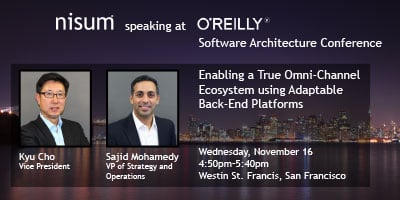 ---

October 28, 2016
FOR IMMEDIATE RELEASE
Nisum Executives Selected to Speak at O'Reilly Software Architecture Conference

Presentations to discuss omnichannel enablement as well as Nisum's work with Walmart Labs in implementing a multi-cloud environment

SAN FRANCISCO—Nisum, a leading global technology consulting firm, announced that several of the organization's senior-level executives have been selected to present at the O'Reilly Software Architecture Conference, to be held in San Francisco, November 14-16, 2016.

On Wednesday, November 16, Nisum VP of Digital Consulting, Kyu Cho, and VP of Strategy & Operations, Sajid Mohamedy will deliver a presentation titled, "Enabling a True Omnichannel Ecosystem Using Adaptable Back-End Platforms," which will detail the five elements that retailers must put in place to ensure a seamless eCommerce presence, drawing on recent omnichannel implementations that go beyond a features-driven approach to use a holistic strategy.

Also on Wednesday, November 16, Faraz Mohammed, Nisum Director of Advanced Technology Solutions (R&D), will discuss Nisum's work with Walmart Labs in a presentation entitled, "Clouds Ahead: Work with Walmart Lab's Hybrid, Multi-Cloud Environment." Specifically, Mohammed will detail the lessons learned in working with Walmart Labs' internal open-source software project OneOps, which enables developers to code their products in a hybrid, multi-cloud environment, and switch between different cloud providers in order to take advantage of better pricing, technology, or scalability without being locked into one cloud provider. As a result, OneOps is used by developers to both develop and launch new products faster, and more easily maintain them throughout their entire life-cycle. "All retailers are grappling with the challenge of creating a seamless omnichannel presence and experience for customers," said Sajid Mohamedy. "While most understand that omnichannel is a necessity, it's extremely difficult to build the proper architecture to gather, exchange, and draw insights from raw data. My colleagues and I look forward to sharing the lessons we've learned in creating custom omnichannel systems for Fortune 500 companies and working with CIOs in implementing innovative solutions in CI/CD, DevOps and Application Platform Management for enterprise-level organizations."

For more information, visit www.nisum.com.
About Nisum
Nisum a global consulting firm, and the preferred technology and business advisor for some of the world's leading Fortune 500 brands. Founded in 2000 with the customer-centric motto ""Building Success Together®,"" they have grown to 3 continents by consistently enabling modernization for industry-leading brands. From Strategic IT Planning, Agile Enablement and Business Process Engineering to Application Development, Test Automation, and DevOps, Nisum has you covered. We specialize in building Adaptable Back-End systems such as Order Management, Inventory, and eCommerce. Thereby, facilitating true omnichannel success for our customers.



For more information please contact:




Lyhn Nguyen




Analyst, Sales & Marketing




Phone: 714.579.7979 x211




lnguyen@nisum.com



- END - "