What are the important points for hiring the right talent for your business and keeping them engaged? Nisum VP of Staffing, Mausami Kakkar, will discuss these questions at the 6th Global Leadership Research Conference (GLRC 2021) on the Recruitment and Retention in the Age of Technology panel on February 26, 2021, hosted by Amity University in Noida, India and online.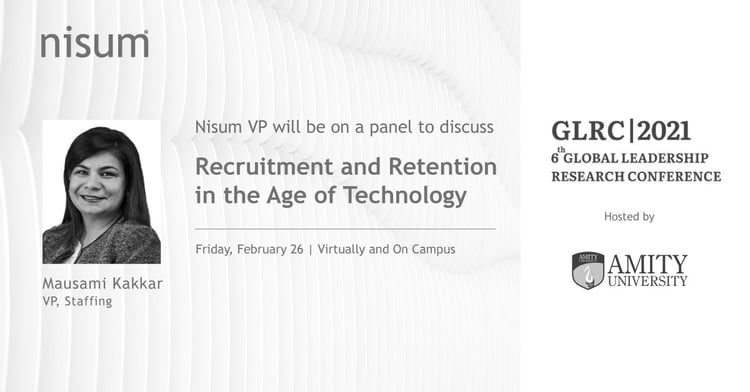 ---

GLRC 2021 will provide a platform where management scholars, researchers, academicians and practitioners can share the ground-breaking outcomes of their research across diverse management domains and subsequently, contribute to theory building in the field of Management.
GLRC 2021 will discuss research practices across emerging paradigms from the management disciplines of Marketing, Finance, Human Resource Management, and Operations Management. One of the key goals of the event is to provide a forum for the academia-research-industry and identify ways to develop it by establishing mutually beneficial institutional collaborations and partnerships. The conference aims to cultivate a global ecosystem where discussions can be organized on the evolving demographic, socio-political, industrial, and digital patterns across business and society.