Businesses are increasingly looking to create a seamless path to purchase with a singular view of their customers across all channels, including in-store, online, mobile, social, call centers, direct mail, and more. Nisum's Sajid Mohamedy explains how IT must be a key player in this process in order for it to be successful. Read the full article below or on InformationWeek here.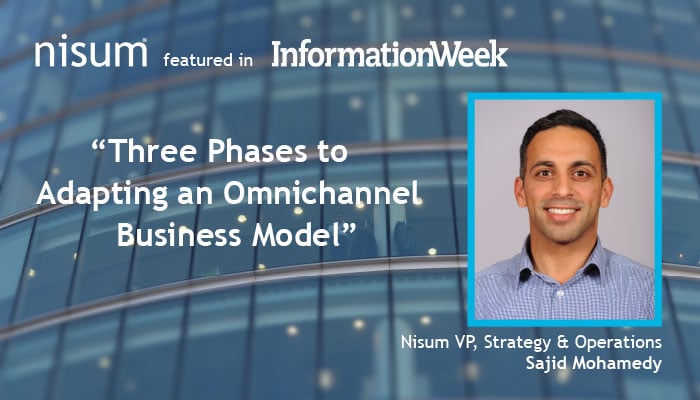 ---
Three Phases to Adapting an Omnichannel Business Model
IT becomes a key player as businesses move to create a seamless path to purchase with a singular view of their customers across all touchpoints, including in-store, online, mobile, social, call centers, direct mail and more.
Omnichannel adoption is growing across sectors. Advancements in digital technology are changing consumers' purchasing behavior, as well as their expectations of retailers. Today, your customers are using multiple channels to make a purchase, and all channels must work seamlessly to support the customer journey and brand experience. For example, loyalty programs should link online and in-store behavior so that when a customer walks into your brick-and-mortar location, store associates will already know what products they've been browsing for online.
To create a seamless path to purchase, companies need to build a singular view of their customers across all touchpoints, including in-store, online, mobile, social, call centers, direct mail and more. However, as many of you who are reading this right now may be thinking, this is easier said than done. Research estimates that while 75% of retailers consider omnichannel to be essential to their business, nearly 50% are not actively investing in an omnichannel retail strategy.
Why the disconnect? There are certain operational complexities that come with integrating a number of systems and functions across an organization, and these complexities will be different for each business. There is no "one size fits all" omnichannel solution. From a people and process standpoint, introducing a new operating model is no small feat as large organizations tend to function in departmental silos, each with its own set of SOPs, that rarely communicate.
For these reasons, it's very common to see organizations fall into one of three different phases of omnichannel maturity in their journey toward achieving a singular view of the customer. While it's easy to get stuck along the way, here's an easy way to see where you are in the journey and how to move to the next phase.
Phase 1: Features driven approach
For many organizations, the omnichannel journey begins because there is a certain feature they want to implement from a customer service perspective. For example, enabling customers to reserve something online for in-store pickup and purchase. IT builds this functionality, usually by customizing or modifying existing applications and technology. While technically this falls within the omnichannel sphere, this doesn't necessarily mean the company has adopted and deployed an omnichannel business strategy. When omnichannel features are rolled out one by one, on an ad hoc basis, the result is often very disconnected, which impedes upon the goal of creating a singular view of the customer.
Phase 2: Building the foundational blocks
To move past a features-driven approach, there are five key foundational blocks organizations need to have in place to support overlap between different systems and applications, and ultimately build a completely holistic omnichannel ecosystem. These are:
A consolidated product catalog, irrespective of sales channel

Cross channel inventory visibility to immediately provide an item's availability and location

Distributed order management for sourcing and fulfillment optimization

Integrated supply chain across channels

Ongoing 360-degree consumer insight across channels
In order for organizations to build these foundational blocks, IT plays a critical role in building a robust and scalable software architecture and technology stack for the back-end systems that drive omnichannel efforts. This increases agility, allowing business owners to drive change with fewer obstacles than arise from rigid, outdated systems.
With adaptable back-end systems at the core of business operations, another integral component for omnichannel success is leveraging APIs to maximize an organization's core systems and resources within or outside the organization. The API economy represents a new and already market-proven way of doing business that is flexible, powerful, and capable of on-demand integration with almost any external system.
In practice, this means organizations can do things like implement in-app Apple Pay, promote through Groupon, or create an Instagram collection shop, to name a few examples, without creating friction and headaches on the backend. The advent of new marketplaces and explosion of mobile apps has made it so businesses must be ready to integrate new possibilities with minimal disruption.
Phase 3: Achieving customer centricity
With the building blocks in place, organizations are in position to reach a state of omnichannel nirvana, also known as customer centricity. When it comes to operating with customer-centricity, it's less about the latest technology (IoT, AR, VR, etc.) or buzzword (omni, unified, or frictionless commerce) and more about changing the organizational mindset to focus on interacting with customers more intuitively.
With the foundational blocks we've discussed in place, organizations are able to use the insight and information they've gathered to form a singular view of the customer that predictively informs customer behavior and the overall business model. Now, omnichannel is no longer just a set of initiatives coming from several different directions, but a CEO priority that drives the business forward to operate as a digital organization.