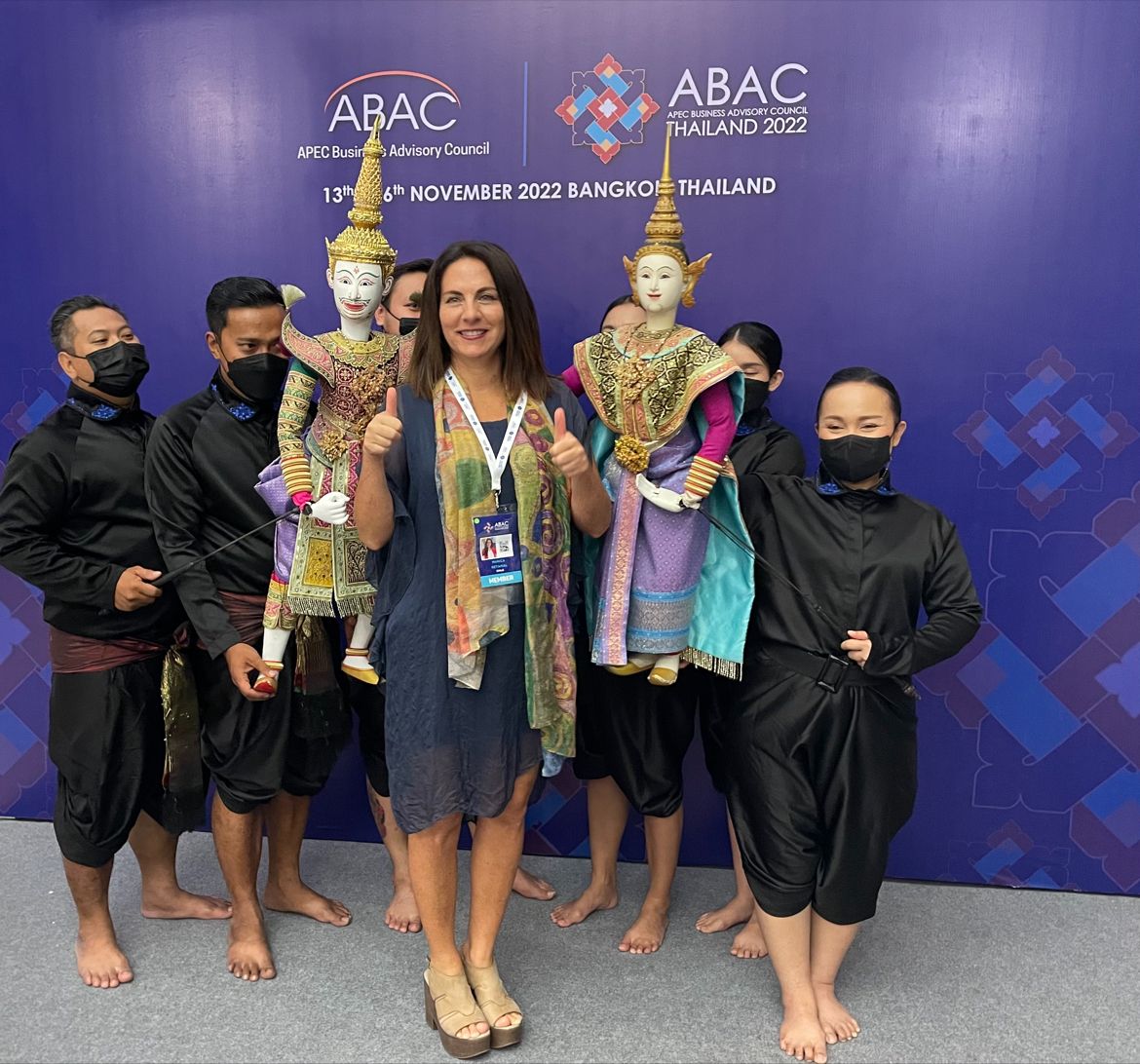 Retamal represented Nisum and the APEC Business Advisory Council (ABAC) as an advisor to global leaders during APEC Economic Leaders' Week (AELW) in Bangkok, Thailand.
Read the press release on PRWeb here.
BREA, CALIF. (PRWEB) DECEMBER 02, 2022
Asia-Pacific Economic Cooperation (APEC) hosted APEC Economic Leaders' Week (AELW) during APEC 2022 from November 14 to 19 in Bangkok, Thailand. APEC 2022 hosted APEC leaders to discuss how to accelerate recovery, revive growth, and integrate inclusivity and sustainability after the pandemic. AELW united APEC leaders and APEC Business Advisory Council (ABAC) to discuss the following:
Facilitating open trade and investment, improving the business environment, advancing regional economic integration, and leveraging digitalization and innovation
Revitalizing recovery by facilitating open trade and investment, improving the business environment, and advancing regional economic integration
Reviving growth by restoring connectivity by resuming safe and seamless cross-border travel, reinvigorating tourism and the services sector, facilitating business mobility, and increasing investment in health security
Integrating inclusivity and sustainability objectives in tandem with economic goals
Nisum Partner and Director and ABAC member, Monica Retamal, met with Chilean President Gabriel Boric and advised additional APEC leaders during APEC 2022. Her role as an ABAC advisor was to deliver a strong message to APEC leaders emphasizing the imperative for collective leadership and decisive action to accelerate economic recovery and secure long-term prospects for growth. Her experience as an ABAC member, combined with 23 years of experience as a leader in the technology sector, allowed her to advise on the growth and prosperity agenda in the Asia-Pacific region, specifically addressing the digital divide and the need for development.
"I was honored to be in Thailand to represent Chile in the APEC Business Advisory Council and the technology sector from Nisum. Coordinating a collective response to climate change, encouraging the energy transition towards clean energy, accelerating economic integration, and invigorating multilateralism were some topics I discussed with Chile's main trading partners," said Retamal.
After APEC 2022, the Leaders' Declaration was released and states, "We recognise the power of digital transformation in facilitating and reducing barriers to trade and unlocking exponential growth, including through nurturing the interoperability of digital systems and tools across the region. We encourage APEC to incubate more cutting-edge and comprehensive cooperation initiatives on digital economy. We will, therefore, accelerate the implementation of the APEC Internet and Digital Economy Roadmap (AIDER) to harness new and emerging technologies and the full potential of our society as well as create an enabling, inclusive, open, fair and non-discriminatory digital ecosystem for businesses and consumers."
Nisum is proud to be represented by Retamal and will continue to promote digital transformation across all industries and regions to fulfill our purpose of contributing to a more sustainable and just world.
About Nisum
Nisum is a leading technology consulting partner based in Silicon Valley that designs and builds custom digital commerce platforms. Nisum has services spanning digital strategy and transformation, insights and analytics, blockchain, business agility, and software development. Founded in 2000 with the customer-centric motto "Building Success Together®," Nisum has grown to 2,000 professionals across North America, Latin America, India, and Pakistan. A preferred advisor to leading Fortune 500 brands, Nisum enables clients to unleash tangible business growth by building the advanced technology they need to excite end customers in today's world with immersive and seamless experiences across digital and physical channels.
About APEC 2022
The Asia-Pacific Economic Cooperation (APEC) is a regional economic forum with 21 member economies in the Asia-Pacific region. Created in 1989, APEC's fundamental value is the promotion of regional economic integration in a non-binding manner and a friendly environment. In the now-enlarged era of COVID-19, APEC has been doing its best to adapt and cope with the unprecedented challenges affecting the economic well-being of the region. Putrajaya Vision 2040 has been launched to boost the APEC economy to be more open, dynamic, resilient, and peaceful. Thailand, as the host of APEC 2022, works with a fresh perspective to ensure that APEC achieves more balanced, resilient, and sustainable growth. From APEC 2021's theme of "Join, Work, Grow" to APEC 2022's theme of "OPEN, CONNECT, and BALANCE," APEC will continue to be strengthened to become more capable, agile, results-oriented, and relevant to the prosperity of our people and companies.
For additional information, reach out to our media relations team.