"​Speed is the key in experimenting and embracing new digital trends, and cloud computing enables companies to get that speed at a fraction of cost," said Faraz Mohammed, Nisum's Director of Advanced Technology Solutions and R&D in CIO Review. Read the article on their website here.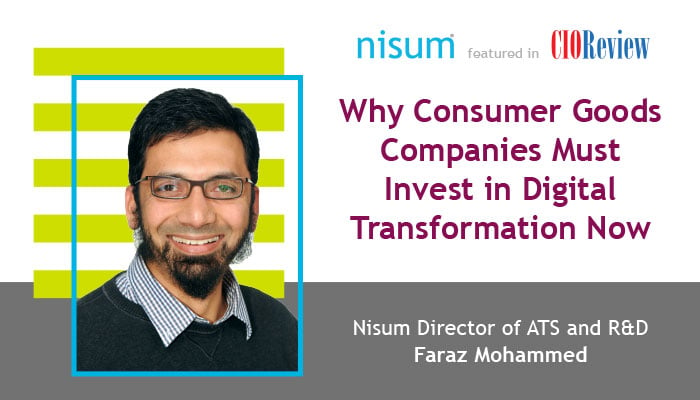 ---
Why Consumer Goods Companies Must Invest in Digital Transformation Now
The Consumer Packaged Goods (CPG) industry has traditionally been slow to adapt to the digital world. CPGs typically rely on retail partners for sales feedback, and certain subsectors of the industry are better positioned to embrace and implement an omnichannel eCommerce approach than others. For example, consumers are comfortable buying things like electronics online, but less so when it comes to food and beverage, or any impulse product that alleviates an immediate need or desire.
However, mobile, social, and the general trend towards eCommerce has disrupted CPG retail with vibrant new marketplaces and shopping tools, such as new emerging players like Jet.com, and as a result, the CPG industry is in the midst of a big change. This is the time to embrace digital transformation, as eCommerce sales for CPG companies have risen by 42 percent in the last year, a substantial figure in an industry that is experiencing only 2 percent growth overall.
With an omnichannel approach, CPG companies can engage directly with consumers to understand their needs and pain points across channels in order to reinvent their products to better meet customer needs and wants. For example, Unilever has successfully engaged in consumer co-creation to launch a fast-growing dry-shampoo brand that is now one of the best-selling mass hair-care products in the US.
Speed is the key in experimenting and embracing new digital trends, and cloud computing enable companies to get that speed at a fraction of cost. What would have been a multi-year project with a few million investments, can now be done at fraction of that cost, and this is a huge impetus for CPGs to adopt an omnichannel architecture. Ideas such as Open Catalog Publication, Consumer Engagement, Co-Creation, Sentiment Analysis, New Product Idea's Input, Usage Feedback are few digital trends that can be tried faster than ever before, the benefit of both CPGs and customers.
However, this is not to say that the process of driving real value is not without its challenges. Cloud technology has opened up countless new information streams for CPGs to contend with and make sense of. It's often the case that CPG companies have lots of data, but lack the tools to effectively use that data to drive business. CPGs are struggling with how to consolidate, integrate and use data effectively.
To underscore this point, between 60-70 percent of data generated via consumers or through non- transaction systems is unstructured data. Often, companies undermine the importance of this data, and many don't even store such data until they know, in advance, the intended use of data.
There were also many technical challenges in storing such data, such as high storage cost, licensing cost for RDBMS systems, and performance tuning overhead. But things have changed significantly with the advent of cloud and big data, and companies can now process several terabytes of data in less than an hour at a cost less than a personal PC.
The right approach for CPGs is to take a step away from the traditional BI mindset and move towards the concept of the data lake, ensuring that all decisions in the company are data-driven decisions, not the gut feeling of one analyst or guru. Data should be made available to all stakeholders and organizations should embrace open source tools for data exploration and machine learning. While the cost of building an in-house data lake or big data solution is still significantly high, companies can leverage the cloud to do this at a fraction of the cost.