As the retail landscape continues to change, and the need for digital transformation becomes a necessity, the development of omnichannel strategies has spread across the industry. In this Retail Info Systems article Nisum CEO, Imtiaz Mohammady provides some insight on how some retailers are successfully executing omnichannel strategies and focuses on exactly what is creating those positive returns. See the full text below or view the article here.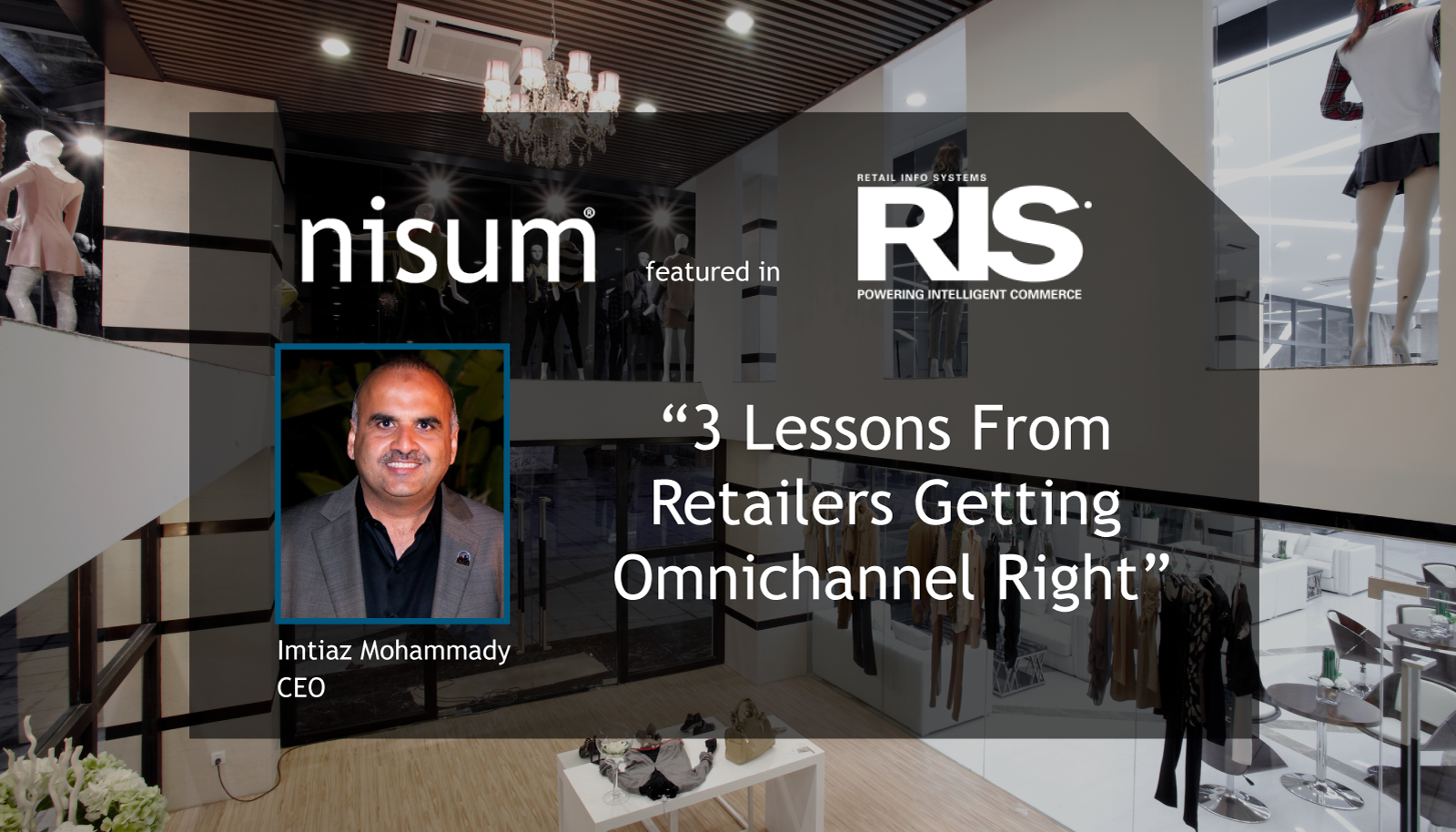 ---
3 Lessons From Retailers Getting Omnichannel Right
Retailers today are at a crossroads. Fierce competition has led to a steady decline in in-store foot traffic, resulting in big-name brands like Toys R Us, American Apparel, and Claire's shuttering locations across the country. At the same time, online retail is booming. In fact, last year represented the strongest year-over-year growth for e-commerce since 2011.
Amidst this changing and extremist market, many retailers have adopted an ethos committed to digital transformation and omnichannel retail. And when done right, omnichannel retail works. According to a Harvard Business Review study, customers that use multiple channels during their shopping journey are more valuable to retailers: they not only spend more in-store but are also more loyal than customers who are online-only or store-only shoppers.
However, the reality is that many retailers are not doing omnichannel right. Forrester's US 2017 Customer Experience Index found that the quality of customer experience was down for both traditional and online retailers, and with "meeting the customer where they are, on their own terms" being the key tenet of omnichannel retail, this finding is problematic.
Retailers must ask themselves if they've truly mastered omnichannel or are simply paying lip service to the idea. To illustrate the difference, we've highlighted some of the lessons to be learned from retailers who are doing omnichannel right.
LESSON #1: THINK CUSTOMER, NOT CHANNEL
Online retail is not going away. Most traditional retailers respond in one of two ways: double down on in-store efforts, fighting (a losing battle) against rising online sales, or, double down on digital as a separate channel. Though the first course of action is perhaps more clearly doomed, the second is equally as ill-fated.
Omnichannel is not about reaching the most people possible through individual channels; but rather, focuses on providing customers with a seamless shopping experience in brick-and-mortar stores and through a variety of digital channels, all in ways that resonate with the consumer.
Nordstrom has been an early adopter and poster child for omnichannel success, offering buy online, pickup in-store, reserve online and try in-store features for the better part of a decade. It was among the first retailers to provide online shoppers with store-by-store inventory and the ability to shop directly through social. At many junctures in the company's omnichannel journey, leadership has emphasized the focus on customer experience, as opposed to channel, in determining strategy. This has served the retailer well; as President Blake Nordstrom pointed out on the company's Q4 2017 earnings call, Nordstrom now has "more than 60 combinations in which merchandise is ordered, fulfilled, and delivered."
LESSON #2: EMBRACE A FAIL-FAST MENTALITY
Retail is a rapidly evolving industry, and retailers need to be equally agile in their omnichannel strategies.
Amazon, for example, has been experimenting with a brick-and-mortar presence since 2015 when it opened its first physical bookstore in Seattle. And while 2017 was certainly a landmark year for the retail behemoth, having invested heavily in brick-and-mortar with the acquisition of Whole Foods and the opening of another Amazon Books in New York, Amazon was also testing out its Amazon Go cashier less convenience store (which after a successful test run, will now open up 6 new locations), and more quietly, AmazonFresh pickup grocery service at two locations in Seattle.
Similarly, last year Target rolled out 11 small-format stores across the US to reach consumers in densely populated urban areas, with inventories and an atmosphere cultivated specifically for each market. A vast departure from their traditionally massive suburban strip mall locations, the retailer announced plans to open 30 new small-format stores in urban markets in 2018.
The lesson here is that both Amazon and Target experimented with omnichannel strategies vastly different from their respective business as usual, first on a small scale to gauge the effectiveness and then moving to larger rollouts. While results won't always be positive, it's important to invest in new strategies and to keep innovating in order to remain competitive.
LESSON #3: DELIVER AN EXPERIENCE AS OPPOSED TO A TRANSACTION
A true omnichannel strategy is holistic and views in-store and digital as various touchpoints along one customer journey. Infusing the shopping experience across all channels, retailers should be looking for ways that digital touchpoints can add value to the in-store experience, and vice versa.
When e-commerce native Birchbox, for example, opened a physical store in New York City, the beauty subscription service began offering salon services in-store. To cite another example, Nordstrom recently opened a flagship men's store in New York City offering services that customers can't get online. Think: shoe shiners, sneaker cleaning, guest barbers, and digital kiosks that facilitate returns. A similar women's flagship store is planned for 2019.
On the flip side, Target announced its acquisition of Shipt at the end of 2017, offering same-day delivery service for online orders to customers for a yearly subscription fee. Target has also launched curbside pickup via the Target app and Target Restock, allowing online shoppers to schedule regular deliveries of their essential items.
Transitioning to an omnichannel approach doesn't happen overnight, but it does need to happen for retail brands to stay relevant. While Target, Amazon, Nordstrom, and others are certainly leaders in the space, it is possible to start small. Consider tactics like installing tablets in-store to showcase the most popular online items, with the option to purchase. For digital natives, investing in popups can be hugely impactful in giving customers an opportunity to "try before they buy" and in doing so, push them along the sales funnel.
The bottom line is that in today's retail environment, a successful omnichannel approach is one in which digital touchpoints and the in-store experience complement each other and add value to the overall customer journey, ultimately leading to loyal customers and more sales across channels.