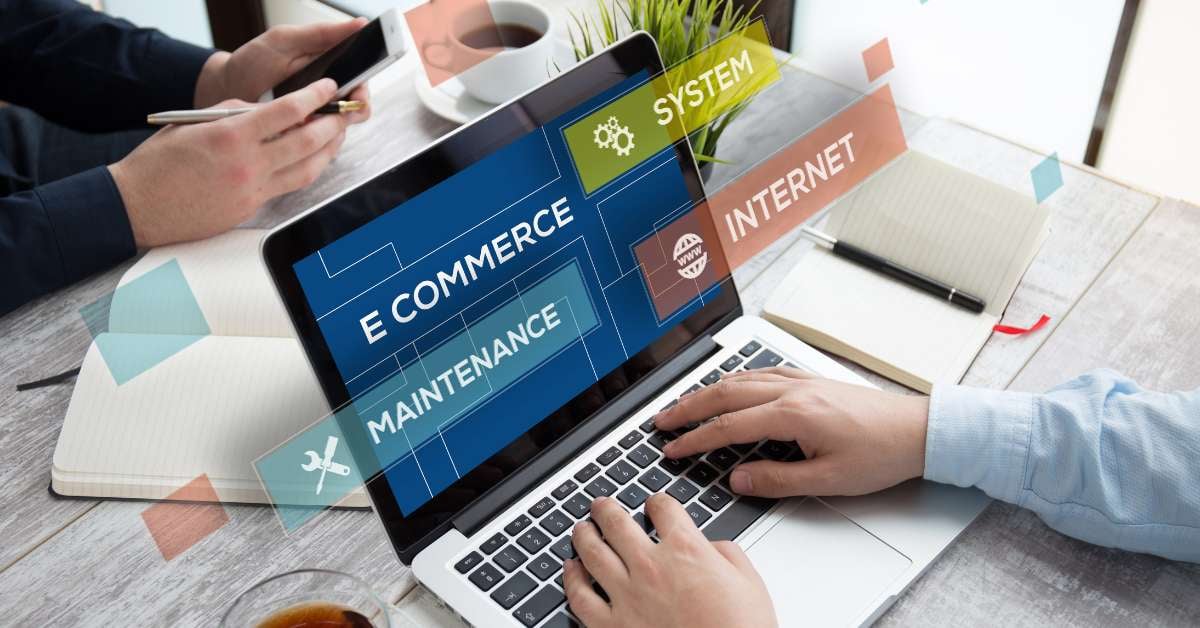 Photo source: Canva
Running and managing an eCommerce platform consumes substantial administrative time and resources. Dealing with inventory, order processing, fulfillment, and shipping are crucial aspects of the supply value chain. Managing this manually is time-consuming and prone to human error, which can negatively impact the customer experience. In today's highly competitive market, having an effective eCommerce solution in place can improve your sales, operational costs, customer satisfaction, and customer loyalty.
If you are looking for a robust system that drives revenue and supports a growth-oriented digital commerce strategy, then you should consider investing in a cloud-based SaaS (software-as-a-service) from Salesforce.
What Is Salesforce Commerce Cloud?
Salesforce Commerce Cloud (SFCC), formerly called Demandware, is a highly scalable cloud-based SaaS eCommerce solution. Commerce Cloud provides merchants with a seamless commerce solution that provides a rich omnichannel experience for customers across all channels. The platform offers a unified way to manage customer relationships, product information, personalization, and analytics both online and in-store. These capabilities help merchants drive more sales, improve customer satisfaction, and strengthen brand loyalty and engagement throughout the customer experience.
SFCC makes business management easier by incorporating the latest eCommerce features and best practices into the solution. Salesforce Commerce Cloud is a one-stop solution for retailers and brands looking to improve B2B and B2C operational efficiency.

Salesforce Commerce Cloud Features that Can Help Grow Your Business
The core functionality of this platform is vast and can be utilized in a myriad of business applications. Listed below are 6 reasons to consider incorporating Salesforce Commerce Cloud into your digital strategy:
1.

Personal Recommendations

This cloud solution utilizes Salesforce Einstein, which is a set of artificial intelligence-powered features for customer service, marketing, and sales that help users get more value from their data. This data is configured using Einstein Commerce Insights - an AI-powered shopping cart analysis dashboard, built to deliver personalized customer experiences. SFCC is an all-in-one customer service management solution that can automate routine tasks and improve conversion rates.
2.

Scalability

As a cloud-based product, Salesforce offers continuous updates of new features. Utilizing an automation process, it scales silently in the background and provides capabilities for retailers to expand their reach quickly and efficiently. This enhanced capability improves customer segmentation and provides access to new markets without the need for additional infrastructure. Salesforce Commerce Cloud can manage multiple sites, easily customize languages and currencies based on region, execute global content strategies, and record all changes made to the platform. Additionally, during peak hours, the cloud will scale servers based on demand and automatically update applications with new updates.
3.

Easy Integration

Salesforce Commerce Cloud is designed to integrate easily with other systems and databases. It offers out-of-the-box integration with a suite of cloud services such as Salesforce Sales Cloud, Service Cloud, and Marketing Cloud - as well as many other popular third-party applications and services. It also provides a comprehensive API integration library, allowing developers to connect to external systems with ease. This can include business integration software, customer service management solutions, SaaS-based services, as well as many other digital commerce platforms.
4.

Innovative Product Road Map

Salesforce Commerce Cloud has a detailed roadmap that gives users confidence that their needs will be met as the platform evolves. For example, newly added features like Commerce Cloud payments, allow you to add payment functionality to your website without code. Your customers can easily pay with credit cards, Apple Pay, Google Pay mobile wallets, or choose non-card payment methods with integrated fraud protection. Additionally, with SFCC, users do not have to worry about software maintenance because Salesforce manages these aspects, so retailers can focus on managing key business operations.
5.

Optimized Web Design

With SalesForce Commerce Cloud's Page Designer feature, you can easily design, schedule, and publish new pages. A drag-and-drop interface and powerful, reusable components make it easy to build eCommerce websites with a few clicks, increasing retailers' online presence while saving time and money.

SFCC allows retailers to launch campaigns faster, boost organic traffic, help shoppers quickly find the right product recommendations, and improve the overall digital experience. It unites products, pricing, and catalogs to simplify the buyer experience across multiple sites, languages, and currencies. Salesforce Commerce Cloud provides the functionality and UI/UX to elevate your customer's shopping experience.
6.

Developer-friendly Coding

Salesforce Commerce Cloud helps developers build and deliver innovative software solutions while maintaining a fast development process. It uses JavaScript, an industry-standard programming language, to help developers build applications faster than ever before with fewer bugs and more flexibility. In addition, Salesforce Commerce Cloud has an open ecosystem that lets you easily bring your favorite technologies into your projects.
What Makes SalesForce Commerce Cloud Different from Other Platforms?
SalesForce Commerce Cloud's powerful cloud computing differs from other platforms in several ways. This cloud-based SaaS provides an AI-based recommendation engine that enables businesses to increase sales by providing customers with tailored product recommendations. SFCC also allows retailers to manage the entire customer lifecycle, from marketing and sales to customer service and data analytics. This cloud solution has changed how companies deliver applications to their customers using advanced AI technology, process automation, and ease of use across multiple channels.
Salesforce Commerce Cloud is particularly attractive to the retail industry. The Omnichannel capabilities, internationalization, customer segmentation, reporting, merchandising, and catalog management capabilities make it more distinctive and adaptable than many other solutions. SFCC's managed hosting service also frees retailers from having to manage servers, data storage, data security, and network IT infrastructure while allowing rapid implementation and site deployment. With SFCC, retailers can save money by launching a fully-functional eCommerce store in mere hours or days instead of months.
How Much Does SalesForce Commerce Cloud Cost?
Salesforce Commerce Cloud pricing is available in three tiers: B2B, B2C, and B2B2C. The cost of using this platform is based on a revenue-share model. Pricing is calculated based on gross merchandise value (GMV) and/or order volumes. This model typically attracts brands and retailers with high product profit margins to fund license fees. In contrast, this model may be less appealing to high-volume, low-margin retailers. Given the scalable nature of the platform, SFCC pricing can often be tailored to meet your specific requirements and budget.
How Nisum Can Help You Build and Customize Your eCommerce Business
To succeed in today's digital marketplace, your company needs to be able to quickly adapt to the needs of your customers, industry requirements, and the evolving market. Nisum offers a variety of capabilities that help our clients meet these challenges. We are the eCommerce industries' preferred cloud solution provider, developing scaled eCommerce platforms for both large and small enterprises since 2000. Our expertise in cloud technology extends beyond Salesforce Commerce Cloud, including:
Cloud Migration and Adoption
Architecture and Design
Data Security
Optimization
Cloud Provisioning and Configuration Management
Contact us today to initiate your digital transformation. Let us help you leverage the benefits of cloud technology and grow your business through all digital channels.