2 min read
Scaling Out Mega eRetailer's Loyalty Program
05/30/2019
How Nisum Improved Customer Retention Rate and Repeat Customer Rate and Increased Loyalty Base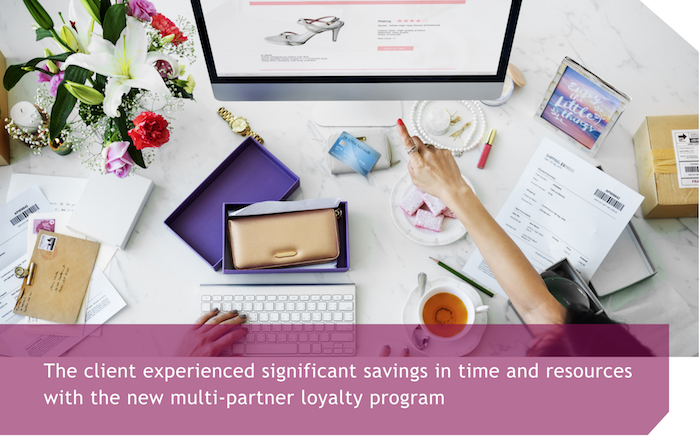 Business Challenge
A Fortune 500 eCommerce retailer found that its existing loyalty program was not realizing its full potential due to factors such as low client retention, reward redemption rates, and spiraling administration costs. In order to improve the customer base and retention rate, the retailer was considering the implementation of a multi-partner loyalty program but faced a few challenges in doing so:▪ Inconsistent digital infrastructures
Inconsistent digital infrastructures
Obligations to protect competitive proprietary information as well as customers' personally identifiable information
Limited resources available to migrate customers to the new loyalty program
Discovery
Nisum's three-part discovery process was executed:
We consulted with client stakeholders/users and created a gap analysis report on loyalty IT implementation.
Our team of experts then assessed the client's existing technology platform, including all applications, and hardware/infrastructure resulting in a blue-print, and corresponding architecture that would enable our client to move forward with its coalition loyalty plans.
As the last step, we evaluated costs, time management, customer value, and stakeholder interests to plan the project according to the client's needs.
Our Solution
Our team of experienced retail technologists partnered with the client's IT team to develop an end-to-end application to accommodate a multi-partner loyalty program, comprised of database design and modeling, backend APIs, UI features, customer notifications, and analytics to measure customer participation.
By using Agile methodologies and test-driven development (TDD) from the initial stages of engagement, we ensured development was always done per client expectations while accommodating constant integration challenges with diverse systems.
Below are the high-level features implemented by Nisum:
Customer enrollment
Loyalty account synced with user profile
Loyalty ID lookup
Earn rewards
Redeem rewards
The application was built to be scalable, maintainable, and extensible to accommodate change. Fault tolerance and reliability were factored in from inception. As a result, the client experienced significant savings in time and resources and was able to concentrate on business strategy.
Client Value
In partnership with Nisum, the client was able to successfully:
Debut the re-launched loyalty platform with a significantly shortened time-to-market.
Tap into a broader pool of high-spend/high-frequency customers, with minimum marketing investment.
Achieve a better customer engagement rate (26% of online orders have reward points redeemed).
Experience a surge of several thousand new reward account enrollments.
Measure program success using real-time analytics.
Mine customer preference and behavior information collected and shared across all partners.